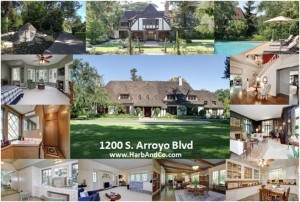 Photos from MLS at time of purchase in 2012,
you will have to attend Pasadena Showcase to see the after
Designed by Stiles O. Clements .  Clements designed many notable buildings and homes including Hollywood's El Capitan Theater.
This 1915 English country estate was purchased in 2012 for $5,800,000.  
7 bedrooms, 10 bathrooms, sited on 3 ½ acres with pool, bathhouse, springhouse, carriage house, tennis court and greenhouse.
The Pasadena Showcase tours begin April 13th and run through May 11th.  Order tickets by phone (714) 442-3872 or online   For those who plan ahead, Mother's Days is May 10th – could be a great way to spend a day with mom.
Proceeds benefit a variety of musical and enrichment programs.  As always there will be an onsite restaurant and shopping.
Search all Pasadena homes for sale here:
Related Post: Pasadena Luxury Home Sales