In some family's it's a holiday tradition, driving around and looking for the best Christmas lights displays. If I have missed any of your favorite Christmas lights, please let me know.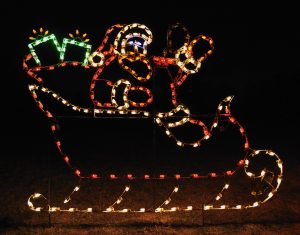 ALTADENA
Christmas Tree Lane – Santa Rosa Ave. & Woodbury Rd. Believed to be the oldest large scale Christmas light display in the nation.
SAN MARINO
Christmas Tree Lane, San Marino – Huntington Drive at St. Albans Some believe the San Marino Christmas Tree Lane to be even more spectacular than the Altadena display.
WOODLAND HILLS
Candy Cane Lane – Labao Ave. & Oxnard St. A San Fernando Valley tradition since the 1950's. A celebration of lights, snow and holiday vignettes. Sometimes Santa and his elves are on site posing for photos.
LOS ANGELES
LA Zoo Lights Nightly – Explore a dazzling wonderland of light, see real reindeer (including two babies!), visit with Santa on select dates, and enjoy seasonal treats and goodies, all under the stars at our beautiful Los Angeles Zoo.
Travel Town Christmas Train Ride – Take an evening train ride around the festively decorated, one mile of track. Magical scenes and tens of thousands of lights will set the mood for the Holiday season.
PRIVATE RESIDENCE CHRISTMAS LIGHT DISPLAYS:
LA CANADA
Mondon Home – 4920 Oakwood Ave. North of Knight Way. Approximately 25,000 lights, lighted planes, trains and animals, carousel, toy soldiers and traditional Christmas scenes.
ALTADENA
Balian House – 1960 Mendocino Ln. Owned by the Balian ice cream family. Various vignettes, more than 10,000 lights draped across its corner lot.
EAGLE ROCK
5200 Block of La Roda Ave.
1600 Block Linda Rosa Ave.
SUNLAND/TUJUNGA
Langmuir Ave. cul-de-sac, off Apperson St.
11121 Leolang Ave (corner of Ellenbogen and Leolang). Tune the radio to 98.1 FM, sit back and enjoy the show.
BURBANK
Keith's Annual Winter Snowland – 529 N. Florence St. This Christmas display covers nearly every inch of the front yard and most of the roof.
Norton's Winter Wonderland – 513 N. Florence St., – Amazing display with Merry Go Round
PASADENA
Courville House – Monte Vista St. between Allen Ave. & Sinaloa Ave.
Upper Hastings Ranch, Michillinda Ave. Each block has its own theme – from Santa's Toy Shop to a snowy Winter Wonderland.