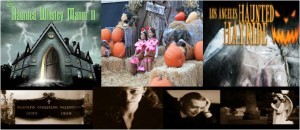 Growing up in Glendale, Halloween was always one of my favorite holidays.  There was always a handful of Kenneth Road homeowners, giving out the large Hershey bars. When my girls were young Halloween was an exciting time of year, there were costumes to buy and hair to style.  Now that my daughters are grown, it's not as much fun – I have had my fill.  But for those of you looking for Halloween events and activities in and around Los Angeles, here's the list:
La Canada
La Canada Elementary Pumpkin Patch
Friday, October 18th  from 2:00 PM – 5:00 PM
Pumpkins and gourds, Halloween and fall décor, temporary tattoos, homemade treats, Trick or treat bags.
Descanso Gardens Harvest Festival
Saturday and Sunday , October 19 & October 20, 10:00 AM — 3:00 PM
Toddler Treks with Acorn Bear, costume parade, music, seasonal crafts, Patina Chuckwagon and Hay Bale Gardens.
La Canada Elementary Halloween Haunt
Saturday, October 26th 10:00 AM – 4:00 PM
Games, music, inflatable's, Halloween costume contest, silent auction, famous Korean BBQ, shaved ice and more.
La Canada Halloween Maze
Thursday, October 31st nightfall -10:30 PM
4800 Grand Ave
215-foot trail of terror that wraps around the entire house, filled with around $25,000 worth of pneumatics, props and animation, plus live-action scares courtesy of the kids and their cousins.
Trick-or-treat along Foothill Blvd
Thursday, October 31st  3:00 PM – 6:00 PM
Annual Montrose Halloween Spooktacular
Thursday,  October 31st  5:00 PM – 8:30 PM
Games, food booths, bounce houses, hot dogs, lemonade, hot popped kettle corn, roasted corn on the cob. Two-story slide, a 40′ obstacle course and a magic bounce castle.
Haunted house in Las Palmas Ave
Thursday, October 31st
3604 Las Palmas Ave, la Crescenta
Nightmare on Vista Court
Thursday, October 31st  5:00 PM – 10:00 PM
4015 Vista Court
Haunted castle filled with movie set quality props, actors, and professional audio sound.
Kenneth Village Fall Festival
October 26th 11:00 AM – 3:00 PM
Come enjoy the village filled with music, costume contest, pumpkin decorating, balloon artist, face painting and more.
Americana A Scary Good Time
October 30th 11:00 AM – 1:00 PM
Face painters, balloon artist, costume parade and treats for those in costume.
Kidspace Pumpkin Festival
October 5th & 6th, 9:30 AM – 5:00 PM
Petting zoo, pony rides, bouncers, carnival games, and seasonal crafts. Costume parade, prepare take-home fall crafts, face painting, and select pumpkins from the pumpkin patch.
Old Town Haunt
October 5th – October 31st
Descend down into the basement of the historical Union Savings Bank Building where mysterious occurrences have taken place in the buildings' deadly history. In fact, something lives down there in the dark….not someone, but something. The basement that was sealed shut for decades is being reopened for your investigation into the unknown.
Halloween Wreath Class at Vroman's
October 17th 6:00 PM – 8:00 PM
Make a Halloween grapevine wreath.  The wreath is
assembled; you will be decorating it with lots of cute, scary items for the season.
dressed-up pup (or other pet) sit for a photo!
Halloween Spooktacular
Friday, October 25th 5:30 PM – 7:30 PM
Orange Grove Park, 815 Mission Street
Costume parade, carnival games, face painting, live entertainment and candy. The event is Free; food will be available for purchase.
Pumpkin decorating at One Colorado
October 26 from 10:00 AM – 12:00 PM
Kids can unmask their creative super powers with some serious Halloween pumpkin decorating fun. Free and open to the public; boys and ghouls welcome.
Annual Halloween Storytime
October 30th, 10:00 AM
Monster and ghost stories for annual Halloween story time. Come dressed in costume for trick or treating throughout the store.
Halloween at One Colorado
October 31st  5:00 PM – 8:00 PM
Dress up the little ones and bring them to One Colorado for store-to-store Trick-or-Treating.  (free) Family portrait with One Colorado's photographer, you can also have your
Burbank
Burbank Underground Haunted House
October 26th – October 28th  & October 31st 7:00 PM – 10:00 PM
907 N. California Street
Boo-tiful Downtown Burbank
October 31st, 4:00 PM – 7:00 PM
Pet owners are encouraged to bring along their favorite K-9 dressed in the Halloween spirit for the Annual Downtown Dog Parade on the AMC Walkway.
Los Angeles
The Blumhouse of Horrors
thru  November 2nd
A brand-new, immersive theatrical horror experience.
Dearly Departed, Hollywood's Tragical History Tour
Daily October 1st – October 31st
Experience the delightfully twisted underbelly of Hollywood with Dearly Departed Tours!
Haunted Hayride at the Griffith Park Old Zoo
October 4th – October 31 Fridays & Saturdays from 7:00 PM – midnight & Thursdays & Sundays from 7:00 PM – 10:30 PM
The grounds of Griffith Park and beyond have been home to murder, torture, paranormal activity, serial killers, and abduction. The area surrounding the "Old Zoo" and "B Rock" has been called one of the most paranormally active sites in all of California.
Mr. Bones Pumpkin Patch
October 4th -30th  from 9:00 AM – 7:00 PM
Mr.Bones Pumpkin.
Hollywood Forever Cemetery Historic Walking Tour
October 6th, 12th, 19th, 20th, 26th, 27th & 31st.
Overview of the cemeteries and its most famous residents.
Screamfest Horror Film Festival
October 8th  – October 17th
LA Live Steamers Halloween Haunted Train Ride in Griffith Park
October 12th-13th, 18th-20th, 25th -27th  & 30th -31st, 7:00 PM – 10:00 PM
Live steamers ghost train, there's no lights at the end of the tunnel!
The Murder at the Natural History Museum Scavenger Hunt
October 12th  2:00 PM
Someone—or some thing—has been bumping off staffers at the L.A. Natural History Museum who were involved in acquiring an ancient Aztec relic. Is it the dreaded Curse of Itlkilyu? Or is a serial killer on the loose? Your team of sleuths will have to crack a hieroglyphic code and uncover the museum's secrets to stop the killings.
The 4th Annual Atwater Village K-9 HOWLoween
Sunday, October 17th 3:00 PM – 4:00 PM
The 4th Annual Atwater Village K-9 HOWLoween benefit parade and Free Yappy Hour, dog and cat food vendors.  Contest will include small and big dog categories.  Yappy Hour and registration begins at 3:00 PM.  $5 registration fee goes directly to D.A.W.S. of Atwater Village-Director of Animal Welfare Services.  You can register the same day or pre-register at Woof Dog Boutique. Get 20% off all Halloween costumes at the boutique!  Woof Dog Boutique is located at 3172 Glendale Blvd.
Halloween Hoop-DeDoo at Bob Baker Marionette Theater
October 18 – November 3, 10:30 AM on Fridays & 2:30 PM Saturday – Sunday
Farmers Market/Radio Disney
October 19th  & October 20th
Crafts and entertainment, banjo bands, carnival games and a petting zoo.
Tenth Annual Halloween Mourning Tour and Halloween Mourning Movie Night
Heritage Square Museum
October 26th  & October 27th, noon – 4:00 PM
Learn all about death and mourning etiquette during the Victorian era, the movement of Spiritualism, and how other cultures celebrate and remember their loved ones.
Haunted Hollywood Scavenger Hunt
October 26 5:00 PM
Visit ghost-plagued buildings and haunted spots in the heart of Hollywood while learning stories about the restless souls you might disturb. Listen for the celebrity ghost who plays a bugle in room 928 at a hotel, check out a movie-themed bookshop whose owner stuck his head in an oven, and see if you feel the spirit of a man with a cape and top hat at the famously haunted Hollywood Wax Museum. You'll also discover the haunting secret of the Hollywood sign, why the pool at Hollywood High is a dangerous place, where a blonde bombshell's ghost gets wet, and whose ghost likes to pace in front of the Chinese Theater.
LACMA Muse Costume Ball
October 26, 8:00 PM
The 10th-annual LACMA Muse Costume Ball is haunted by the ghosts of old Hollywood land.
Halloween Haunted House Tour at Grier Musser Museum
October 27, 1:00 PM – 4:00 PM
Haunted Museum at the Natural History Museum of Los Angeles
October 27th, 5:00 PM – 8:00 PM
Costume parade, Explore he Museum indoors and out and discover some rarely seen specimens and collection items specially selected by the Museum's curatorial staff.
The annual Fall Festival: Trick or Treat on the BOOlevard
Friday, October 29 starting, 3:30 PM
"Magic and mayhem." Trick or treating, music, bean bag toss, and bubble show from 4:30-6:30PM.  Free coffee and tea at Revo Cafe.  Trick of Treat on the Boolevard, where families can go from business to business along Glendale Boulevard for treats and candies.
LA River Center and Gardens
October 29-31, 7:00 PM – Midnight
570 West Ave. 26
Admission is free, but donations encouraged (supports the local MRCA Ranger Explorers youth program)
Sixth Annual Halloween Party for Downtown LA Kids
October 31st 5:00 PM – 8:00 PM
Marionette shows, bouncy houses, crafts, video games, hot dogs, and "trick-or-treat doors."
Halloween Organ and Film: The Phantom of the Opera at Walt Disney Concert Hall
October 31 at 8:00 PM
One of the most famous of all early horror classics is projected with live organ accompaniment.
Danny Elfman's Music from the Films of Tim Burton at Nokia Theater
Thursday, October 31st