Harb & Co. RE Update: Our Highland Park view home is in escrow. Selling with over twenty offers, this home  sold substantially over asking price.  There are many ways real estate agents can meet new clients. Open houses provide Realtors the opportunity to meet people who are obviously interested in real estate.  I met a nice veteran at our Sunday open house and Kris has her in escrow on a home in Sierra Madre.  Our La Crescenta trust sale closed escrow last week. This sold well over asking price and with half a dozen offers.
There are many advantages to working for a real estate company with multiple offices. We listed a trust sale in Santa Paula, and one of our Dilbeck agents in our Camarillo office has been extremely helpful. He held the home open and took care of multiple buyer showings.  With over a dozen offers, we just opened escrow.  My brother-in-law, Joe has two industrial condos in Northern California in escrow.  I will be listing a West Covina duplex and am working on some other listings.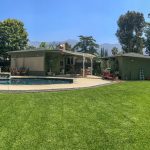 What I am most excited about is my new Montrose listing "The Park".  Summer will never end for the owners of this three bedroom, two bath home on ½ acre in Montrose.  Completely updated, this home boasts a spa and oversized pool.
It seems Harb & Co. will have a busy summer.  And I am looking forward to it!