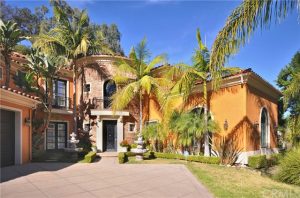 Did you read my post last week about our journey to buying our dream home? 
For those of you who own a home, you will agree that when you first purchase your home, you are worried about making the mortgage payment. The first year or two are a struggle.  Likely you forgo vacations, expensive restaurant dinners, etc. But sooner than you imagine the payments become manageable and you have breathing room. So how much home do you need?
Before moving into our home, we had a lot of work done – it took five months. We ran out of money (still don't have copper plumbing). Closed one bathroom door and vowed not to look at it (several years later we had that bath redone).  We found our mortgage payment manageable and started taking vacations… life was good.
Then one day while previewing La Canada homes I found a gorgeous fixer upper on a large lot with a barn and chauffeur quarters.  Another home with "good bones".  It was love at first sight.  I took George to see it and he agreed; we had to have this home.
What were we thinking? We didn't need bigger; the new home and lot were double the size of ours.  We wrote an offer which was accepted.  Buyer's remorse quickly set in for me in a major way.  I started adding numbers: the roof, plumbing, electrical and heating were shot.  The kitchen and baths needed to be gutted.  My utility bills, gardening, and housekeeping – all of these expenses would double (as well as our mortgage payment).
I spent one sleepless night, and within 24 hours cancelled escrow.  This home is just around the corner from us and I often pass by.  Each time I do, I am so glad that we didn't buy it. It was much more house than we needed and affording it would have been a constant struggle.