We just listed this Adams Hill tri-plex located at 1229 Romulus Drive in Glendale.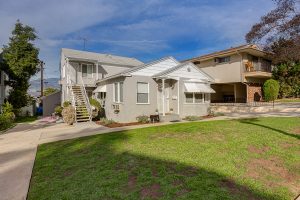 Here are the details:
This Adams Hill tri-plex couldn't get any cuter. There are two, 2 +1 units. The top floor unit has views. The front unit is 1 + 1 which will be vacant mid-March. All have private laundry, granite kitchens, one car garage parking, hardwood floors, and dining rooms with wainscoting. This is a great opportunity for a first time buyer to build equity. The two bedroom units are rented (with leases) $1525 & $1650. There is an additional storage area off a small carport (small 4th car parking).
We will be open Wednesday 1/30 (front unit only) from 10 AM – 1 PM.
First time buyers, call your lender and explore this option – in lieu of purchasing a single family home or condo.