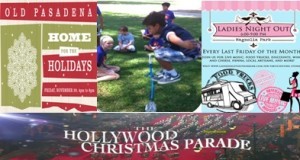 La Crescenta Open House  
Saturday, 1 PM – 4 PM & Sunday, 1 PM – 4 PM
3754 Montrose Ave
Silhouettes at It Takes a Village Kids
12 PM – 4 PM
Make a Keepsake gifts to give and keep. 2 silhouettes (per child) for $20.
Montrose Old-Town Christmas  
Saturday, 11 Am – 3 PM
Santa Claus, horse drawn trolley ride, pony rides and music.
Glendale Open House 
Saturday, 1 PM – 4 PM & Sunday, 12 PM – 3 PM
4 + 5, Spanish Colonial Revival
View one of Glendale's most beautiful Spanish homes
1400 Stanford Drive  
Eagle Rock
We Heart Eagle Rock Block Party  
Saturday, 12 PM – 8 PM
Kids Space Holiday Day Camp
Friday, 9 AM – 5 PM
Make gifts and wrapping paper. In the afternoon, campers learn about Native American culture and traditions. Throughout the day, campers participate in cool science projects and exciting physics experiments, with lots of group time in The Galvin Physics Forest.
Winter Wonderland
Friday, 4 PM – 8 PM
Kid's crafts and music.
Santa's Workshop Craft Fun
Sunday, 11 AM
Holiday craft projects. They can take them home as small gifts for Mom, Dad or siblings.
Arcadia
Arcadia's Hottest Open House     
Sunday, 2 PM – 4 PM
926 Encanto Drive    
Burbank
Ladies Night Out
Friday, 6 PM – 9 PM
Music, Food Trucks and more.
Los Angeles
Breakfast with Santa
Sunday, 9 AM – 10 AM
Biltmore Tree Lighting
Sunday, 5:30 PM – 6:30PM
An hour of music, sweets, and holiday cheer.
Hollywood
Hollywood Christmas Parade
Sunday, 5 PM – 8 PM
Floats, celebrities, bands, giant balloons and Santa Claus.