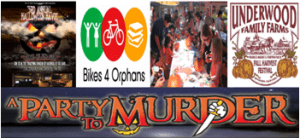 Don't know what your weekend looks like, but mine will be busy.  On Sunday I am holding my newest listing at 1400 Stanford Drive open.  And just before that I am meeting a client I haven't seen in a decade (they have outgrown their home).   For those of you looking for something fun, different and/or exciting to do this weekend, here's the list: 
 The 3rd Halloween Havoc
Saturday, 9 PM
Music, Dancing and more.
VIP booths and bottle services are available.
 Glendale's Hottest Estate Sale
2959 Hermosita Dr. Glendale 91208
Saturday & Sunday, 9 AM – 2 PM
Lots of small antiques, country primitives, early American furniture and decorative. Accessories, lots of plants!  All quality items.   Drop front secretary, lawyer's bookcase, copper, art, trunks, full kitchen, outdoor furniture, tools, holiday décor and much much more.
Owners are still living there so please be respectful.
Glendale's Hottest Open House
Sunday 2 – 4 PM
4 + 5, Spanish Colonial Revival
Stop by this architecturally significant home and say hello!
Pandora Concert on the Green featuring Bridget Mendler
Saturday, 2 PM – 4 PM
Free Concert.
A Party To Murder- Glendale Centre Theatre
Friday, 8 PM – Saturday, 3 PM & 8 PM – Sunday, 3 PM & 8 PM
A performance that tells the story of six people have been invited to play a murder mystery game on Halloween  at a rustic island cottage.  Regular admission: $23 & Children $12.
Bike-A-Thon, Hike-A-Thon
Saturday, 9 AM
Bike or Hike for a cause. 
 Halloween Pumpkin Decorating
Saturday, 10 AM – 12 PM
Halloween pumpkin decorating. Pumpkins first-come-first-served and all creations go home with their creators.
Old Town Haunt – Kids' Matinee
Saturday, 12 PM – 4 PM
Annual jaunt through the catacombs of the Union Savings Bank basement. Admission: $10.
Halloween Spooktacular
Friday, 5:30 PM – 7:30 PM
Games, crafts, music and a costume contest.
Halloween Storytime: Go Away, Big Green Monster.
Saturday, 11 AM
Activities, costume parades and treats.
 Los Angeles
Dia de Los Muertos at Olvera Street 
845 N. Alameda St, Downtown Los Angeles
Friday,  12 PM – 9 PM

Moore Park
 All About The Pumpkins At Underwood Family Farms
Admission: $12, 2 and under Free.
Pumpkins, Food, Animals, Music and activities.
Halloween 2013 Events and Celebrations in and Around Los Angeles