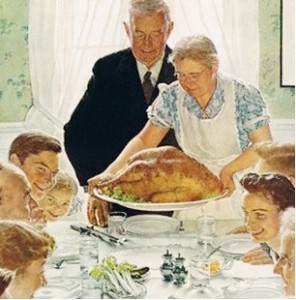 Thanksgiving is fast approaching and I am fortunate that  both my daughters will be home AND my parents, sister and her family will be arriving as well.
Thanksgiving is my favorite holiday because it's just about gathering loved ones and being grateful for life's blessings.   I am a planner, whether its' plotting a marketing calendar for a new listing or preparing for a Thanksgiving feast, I plan.
In the next few days, I will prepare and freeze two quiches for Thanksgiving breakfast.  I have learned (the hard way) that while I am trying to get my turkey stuffed and in the oven, there is someone howling for breakfast and on Thanksgiving morning, I loathe that distraction. It's so simple, pop a couple of quiches in the oven; everyone is happy and there is no interruption from the main event.  If you don't want to make the quiches buy them. They sell them at Marie Calendars (you can pick up your Thanksgiving pies) and Berolina.  If you are doing the bakery run, might as well buy some great bread for your stuffing and some dinner rolls.  I don't make my pies, I buy them (I have never been able to knead dough, I think I lack the patience).
My parents are from Detroit and I am a firm believer in the assembly line.  AFTER we are done with dinner, I line up a half dozen readymade pie crusts and we line the pie tins and assemble turkey pot pies from the leftovers.  After a big dinner, it is the last thing I want to do BUT you have to admit it's efficient.  Each guest brings home a turkey pot pie and I have a couple to freeze.
Because we do the pie thing, we need another main dish, sometimes a prime rib, but if you can find someone to stand in line, Honey Baked ham couldn't be easier.  If we didn't have the second dish, by the time we were done with the turkey pot pies there wouldn't be a leftover for even one turkey sandwich.
For those of you preferring to leave the Thanksgiving cooking to someone else, here's a list of some local options for your Thanksgiving feast:
Descanso Gardens
(818) 949-4200
November 24 at 12:00 PM & 2:00 PM
3 course brunch starting at 12:00 PM, members $45.00, non-members $53.00 & children $19.00
Il Fornaio
(626) 683-9797
11:30am-8pm for a four-course feast with an Italian twist: $35 for adults, $18 for children 12 and under
Maison Akira
(626) 796-9501
Dinner from 4:00 PM – 8:00 PM, adults $50.00; children $25.00.
Mi Piace
(626) 795-3131
Offering their regular menu.
The Langham Hotel
(626) 585-6218
-The Terrace: Brunch buffet served from 10:00 AM – 3:00 PM, adults $95.00, children (3-12 years) $35.00, Dinner served from 6:00 PM – 9:00 PM, $80 without wine, $105 with wine & $35 per child (3-12 years)
-The Huntington Ballroom: Dinner buffet served from 12:00 PM – 4:00 PM, adults $95.00, children (3-12 years) $35.00
-The Lobby Lounge: Breakfast buffet served from 6:30 AM – 11:30 AM, $30.00 per person
-The Royce: Dinner served from 5:00 PM – 9:00 PM, $125.00 per person without wine & $185.00 per person with wine
Ruth's Chris Steak House
(626) 583-8122
3-course dinner for $34.95 per person
Burbank
Castaway Restaurant
(818) 848-6691
Family buffet turkey dinner, seafood, specialty meats & carving stations, homemade festive desert, flowing champagne and much more.
Los Angeles
Bottega Louie
(213) 802-1470
3 course dinner, $40.00 per person
Nick & Stef's Steakhouse
(213) 680-0330
Dinner served at 3:00 PM Adults $39.00 & children under 12 $19.95
The Restaurant at the Standard
(213) 439-3030
Offering their regular menu