I am not a conspiracy theorist, but it seems that a 28% increase in Pasadena real estate values is eerily frightening.  BUT a closer analysis reveals that while last year 25% of Pasadena home sales were short sales or foreclosures, this September (2013) these distress sales represented less than 5% of the Pasadena real estate market.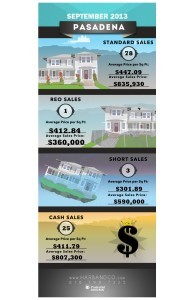 September 2012, there were 68 Pasadena homes sold, at an average price per square foot of $344.21, average days on market was 86, average selling price was $729.75.  Last year the average Pasadena home sold for 98.74% of list price.
Have Pasadena real estate prices peaked?  The average price per foot and selling price decreased from August.  We'll have to compile September's numbers to take a better look.