Much of what a Realtor does on a day to day basis is wait. The Pasadena Association of Realtors changed their multiple listing service (MLS) and it has been a disaster, I still don't have all of the proper links on my web site. I am waiting for the new multiple listing system to be sorted out.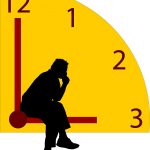 My Markridge seller is purchasing a Pasadena condo. They want/need to close escrow on their La Crescenta home before they close on the condo. I am trying to convince Wells Fargo to issue loan documents upon their receipt of escrow's estimated closing statement… it's like arguing with a two year old. The La Crescenta home will close, money will be transferred to Pasadena… sounds simple.
I am waiting on the marketing for the Glendale auto repair shop so we can list that in the MLS. I am waiting to meet with a trustee to list five units in Altadena. Also am aiting for my client to get her Tujunga starter home ready to market. So what does a Realtor do during their downtime? I often take the time to pre-write blog content. I go on broker's caravan. Different cities caravan on different days… in our Foothill community, I can easily look at new listings Tuesdays – Fridays.
What we also do during downtime is fundraiser for the Pasadena Ronald Mc Donald House. We solicit items for our silent auction. It gives us something worthwhile to do while we wait. And it keeps us busy and structured.