The life of a Realtor is a great mix. We often have twelve and fourteen hour days.  Other days can be filled with just a few hours of work. May is nearly over and Memorial Day weekend is approaching. My mom will be visiting from Washington state. I am looking forward to spending time with her and my daughters.  I love summer, I think we all do.  It brings fond memories of relaxation and the lack of responsibility. On Wednesdays, I invite friends with children for swim day.  I have a pool and now that my daughters have moved it doesn't get as much use as it should.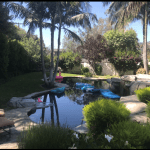 My husband and I have our thirty year anniversary in July, we were thinking of going out of town, but likely will celebrate locally.  We have a cruise planned with the Italian Catholic Federation in October. The cruise departs from Long Beach and returns to Long Beach. No airports involved!
I finished with our Italian Catholic Federation's, celebration of the Feast of St. Joseph. And because Realtors spend so much time waiting, I began soliciting items for the St. Bede annual parish party. I am not on the committee, I just help.  Now that my part is done I leave the rest in the committee's hands and move on to Pasadena Ronald McDonald House.  I will spend the next several months seeking online donations for our annual gala held at the Langham. This gives me something worthwhile to do while I am waiting.  Waiting for loan approvals, offers to be accepted, return phone calls, etc.
The life of a Realtor varies from day to day.  A Realtor's life is appointment driven, but we don't have back to back appointments on a daily basis. Because of this we need to be focused and self motivated. The lack of structure can be a problem for some. It's important that we create our own structure.
I am going to enjoy my summer and hope you do too!