Although the local real estate market has stabilized, affordable homes in the highly desired Los Angeles neighborhoods are still hard to come by.  Most home buyers need to sacrifice a portion of their wish list. It could be lot size, square footage, dream kitchen or even location. So what will a home buyer pay more for?
According to the National association of Realtors, 97% of recent home buyers are satisfied with their home purchase.  However, 52% want more closets, 55% want more storage and are willing to pay more for those features.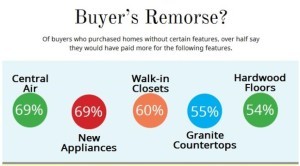 Move in ready homes continue to be highly sought after with most of these listings selling for over asking price. Home buyers continue to pay more for homes that don't need a lot of work.