Grab your lawn-chair, blankets and picnic baskets! It's that time of year when you can meet up with your neighbors. Enjoy outdoor concerts and movies on LA summer evenings.  Here's the list of the best 2019 LA Outdoor Concerts and Movies: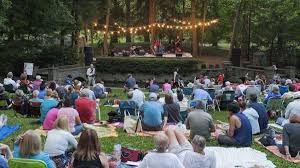 2019 LA Outdoor Summer Concerts:
Music in the Park Summer Concert Series– Memorial Park in La Canada
Each Sunday starting Memorial Day through September 1st Time: 6 – 8 p.m.
Summer Nights at Descanso Gardens, La Canada
World Rhythms (Advance tickets required) – six Tuesdays from June 18 – July 23
Summer Songs – six Wednesdays from June 19 – July 24
Music on the Main (Advance tickets required) – eight Thursdays from June 6 – July 25
Beer Garden Nights – five Thursdays from Aug. 1–29
End of Summer Celebration (Advance tickets required) – Wednesday, Aug. 28
Glendale, Glendale Noon Concerts– Free Event
Every other Wednesday starting May 15th – August 7th
Burbank, Starlight Bowl
July 4th, Then Saturdays July 13 – August 10
Echo Park, Edendale Up Close Concert Series at the Edendale Branch Library
Specific Saturdays noon to 1 pm
Los Angeles, Sizzling Summer Nights at the Autry
Thursday Nights July 11–August 22 @ 5:30–9:00 p.m.
Pasadena, Summer Symphony Pops Series
Selected Saturdays, June – September
South Pasadena, Concerts in the Park
Garfield Park, Sundays (alternate weeks) from June 30 to August 11, 2019 – 6:00 P.M. to 8:00 P.M
Americana at Brand
889 Americana Way, Glendale, CA 91210
TBD but check the websites calendar for updates.
2019 LA Outdoor Summer Movies:
Hollywood, Outdoor Movies At Forever Cemetery
May 11th through June 29
Eat See Hear Outdoor Movie Series:
Rose Bowl Stadium – 1001 Rose Bowl Dr., Pasadena
Autry Museum in Griffith Park – 4700 Western Heritage Way, Los Angeles
Centennial Square at Pasadena City Hall – 100 N Garfield Ave., Pasadena
Laemmle NoHo 7 – 5240 Lankershim Blvd., North Hollywood
ROW DTLA – 747 Warehouse St., Los Angeles
Santa Monica Pier – 200 Santa Monica Pier, Santa Monica
No matter how old you are Summer is the time for rest, relaxation and fun.  And our LA Summer is just beginning, let's make the most of it!