Last month (April, 2016) the most expensive luxury home sale in Glendale was Lloyd Wright's Derby House located at 2535 E. Chevy Chase Drive.  This architectural gem sold for $2,335,000 – $340,000 over asking price.
MLS remarks read: The masterful design of this magnificent Lloyd Wright home, together with its unique location in the foothills of the Angeles National Forest, offers a rare opportunity to own a once in a lifetime property. One of the two main entrances opens to a double story living room with a balcony/library running diagonally across. This links to a rooftop garden deck with views of meandering paths and lush greenery. The master bedroom is two stories in height with a studio loft. The six-sided dining room opens up to a breathtaking exterior garden courtyard. Sitting comfortably on appx one acre, surrounded by towering oak and eucalyptus trees, the roofs extend to quiet garden decks offering private indoor/outdoor living. The house includes dramatic fireplaces, oak flooring and unique stonework all immaculately preserved. This timeless property is considered one of the landmarks of modern architecture in Southern California and to be one of Lloyd Wright's strongest achievements.
The home was previously listed for five months at $2,795,0000 without selling. MLS remarks read: This triumph of architecture has been immaculately restored to maintain the original vision of Lloyd Wright. Built in 1926, this house is perfectly situated on a private site with oak trees and features the best of indoor/outdoor living. Grand scale rooms with original period details are prominent throughout the estate. This is a great opportunity to own one of the most significant architectural homes in the U.S., centrally located near the finest restaurants, shops, and the Los Angeles business district.
This agent who was sadly not successful in selling at the higher asking price, certainly did a better job with the real estate photos: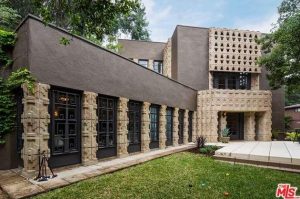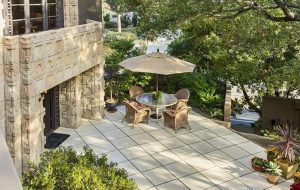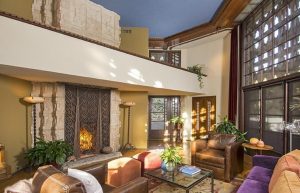 The sellers purchased the home in 2013, at which time MLS remarks read: The Derby House was built in 1926 and was designed by Lloyd Wright, the son of Frank Lloyd Wright. This well restored residence is one of Lloyd Wright's strongest achievement. His genius at integrating nature and building is evident; the garage gates, fireplace grates, French door grills and closets are abstract renderings of the yucca plants growing on the surrounding hills. The Derby House is on the National Register of Historical Places. Except for one bathroom and the designer kitchen, the house is basically unaltered. A double-storied living room features a fireplace with eight foot high wrought iron gates & overlooks mature oak trees in the garden. The redesigned kitchen with it granite counters, oak floors, leaded glass panes & cabinets compliment the original style of the house. Hexagonal dining room with floor-to-ceiling fireplace. Four adjacent lots which make the total lot size 1.5 acres are included in purchase price.
Photos from this listing appear below:
I have had the pleasure of selling several of Lloyd Wright's homes: The Gainsburg House in La Canada  and the ER Lewis House in Glendale. If you have a luxury or architecturally significant home to sell, call us and learn how our marketing arsenal can showcase your significant home.