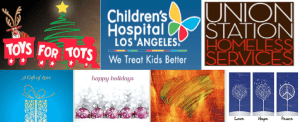 Whether you celebrate Christmas, Hanukkah or just the joy of the season, the endless gift giving can become stressful.  In any economy there will always be those who struggle and there are so many simple ways we can help. At Harb & Co. we don't exchange gifts amongst ourselves but have chosen to support several local charities instead.
For those of you fortunate enough to be in the position to impact someone else's Christmas, here's the list of how you can help: 
One Voice Holiday Volunteer Program   
Volunteer to make food baskets to over 12,500 well needed people.

Hathaw-Sycamores Child and Family 
Make donation online or mail in you donations. You can also donate new unwrapped toys, food or household items.
Union Station Homeless Services 
Volunteer to make and serve a holiday meal for the needy. 
Toys for Tots
Donate a new unwrapped toy to benefit a child in need.  You can make a drop off at your nearest Toys r Us, Build a Bear and other locations. 
The Spark of Love   
The Campaign collects new unwrapped toys and sport equipment.  Drop off to any local fire station; you can also make an online donation.
Salvation Army Family
Donate toys, clothes and food for the holidays
Children's Hospital Holiday Donations
Donate for Children illness Research and every dollar will be matched.