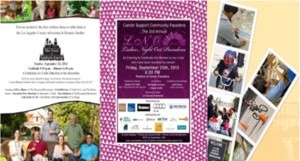 Art Night at White's Gallery
Friday, 6:30 PM – 8:30 PM
2414 Honolulu Avenue, Montrose
Friday night preview for Saturday's art walk, wine and appetizers – FREE event.
Art Walk is Saturday, 9 AM – 4 PM
Beachcomber Kate's Ukulele Jam at Java Brew Coffee House
Saturday, 11 AM
2418 Honolulu Ave, Ste A, Montrose
Informal ukulele jam on the patio.   Singers are much appreciated.
Concert Under the Stars: An Evening of Brazilian Jazz and Rhythms
Saturday, 7 PM
4441 La Crescenta Ave.,
An evening of Brazilian Jazz and traditional Brazilian Rhythms. Food trucks on site. Benefiting the Crescenta Valley Drug and Alcohol Prevention Coalition.
Vintage Paper Fair
Saturday , 10 AM – 5 PM and Sunday, 10 AM – 4 PM
1301 N Verdugo Rd, Glendale
30 dealers and over 70 tables of postcards, trade cards, prints, photos and many other types of old collectible paper.  Free
A talk on the opera Carmen given by Larry Verdugo
Saturday, 2 PM – 3 PM
222 E. Harvard St. Glendale
Free.  Contact the Glendale Central Library at (818) 548-2027.
Burbank
R and R Comedy Showcase
Friday, 7:30 PM
102 East Magnolia Boulevard Burbank
Comics, magicians and other interesting acts.
Pasadena Art Show Helps Syrian Refugees Caught in Crisis
Friday, 4 PM – 9 PM and Saturday, 12 Noon – 3 PM
A series of original contemporary paintings by a mother-daughter team based on their time in the Middle East and experience volunteering for refugees.  Proceeds donated to the International Rescue Committee in their effort to aid the Syrian refugee crisis.
The 3rd Annual Ladies Night Out
Friday, 6:30 PM
33 West Green Street?Pasadena, CA
3rd Annual Ladies Night Out, an evening of entertainment, laughter and commemoration. The celebratory benefit was created to honor the women in the community who have been touched by cancer. Tickets include dinner, a silent and live auction and entertainment. Valet parking will also be available.  Cost : $150.00
Pasadena Kid's Saftey Acadamey
Saturday, 9 AM – 12 PM
7-week program for youth ages 6 to 12 and their parents or guardian. The program is taught by the Pasadena Police Department, the Pasadena Fire Department, and other City Departments and it is sponsored by the Pasadena Police Foundation. During the program, attendees will meet at various locations in Pasadena for seven (7) consecutive Saturdays. The Pasadena Police Department is now accepting applications for the summer academy program. Register by September 13 as space is limited and classes will fill quickly. Enrollment includes snacks and beverages.
Space is limited to 30 children and their parents. Scheduling and reservation information can be obtained by calling 626-744-4551.
Jaqueline Fuentes Concert
Saturday, 8 PM – 9:30 PM 
Born in pre- revolution Santiago, Chile Jacqueline Fuentes' sensual South America sounds have been enjoyed by audiences around the globe. Her original song "Sinuoso Trópico" was featured on the internationally renowned Putumayo Record Compilation "Women of Latin America." Jacqueline's newest album "Amo la Vida" features original songs that blend soaring, rich vocal performances, gently rhythmic guitar melodies and pulsating percussive sounds.  Free, limited seating.
Los Angeles
Cooking on The Edge Culinary Class
Saturday, 1 PM
The Westin Bonaventure Hotel & Suites 404 S. Figueroa Street, Los Angeles
Chef Andreas Nieto takes you on a journey to visit the French Riviera.  He will treat you to an amazing meal paired with fabulous wines.  This series shows you how to become a celebrity in your own kitchen and wow your guests with imaginative courses using local, market fresh ingredients. Participants will be guided by Chef Andreas Nieto as they prepare their own meals to enjoy at the Chef's Table along with a wine tasting.  Seating is limited to 25 participants, over 21 years of age, with a cost of $55 per person. Reservations are taken on a first come, first served basis.  RSVP to Claudia.Lambaren@westin.com
Arcadia
The Feast at Baldwin Ranch
Sunday, cocktails 5 PM –  Dinner 6:30 PM
301 North Baldwin Ave, Arcadia
A fundraiser for the youth eduacatin at the arboretum.  $200 per person ( limited seating).  Reservations with payment required.  Contact Brittany at the Los Angeles Arboretum Foundation to purchase tickets (626) 821-3237.  Proceeds from the Feast will support new youth educational programming in the Arboretum's recently completed edible growing space, the Garden for All Seasons.