Memorial Day is for remembering those who died while serving in in our armed forces. So while most of us enjoy a day off of work, let's remember the sacrifices made for our freedom.
For those staying in town, Harb & Co. have compiled our top picks for a fun filled three day weekend:
Music in the Park, La Canada Memorial Park
Captain Cardiac and the Coronaries
Sundays 4-6 PM (then reverts back to 6 – 8 PM)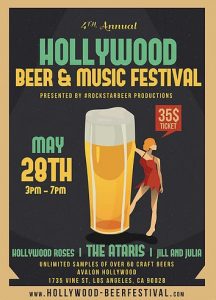 Hollywood Beer and Music Festival
Unlimited samples of over 60 craft beers, food trucks and music
Saturday
Street Food Cinema
Victory Park, Pasadena
Space Jam: more than an outdoor movie, gourmet street food and music
Saturday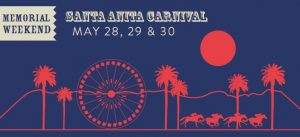 Santa Anita Park, Carnival in the Infield
Ferris Wheel, the Zipper, Super Slide, bumper cars, candy apples, BBQ, snow cones, bacon wrapped cinnamon rolls, churros, funnel cakes, cotton candy. Pony rides, face painting and inflatable jumpers
Saturday, Sunday Monday, Noon – 7 PM daily.  First post at 2:00 PM.
8th Annual Rubber Ducky Races
Saturday – Sunday, 11 AM – 4 PM
480 N. Arroyo Blvd. Pasadena 91103
Kids rubber ducky race, interactive activities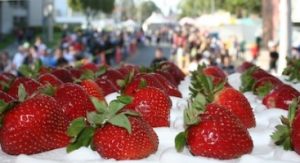 58th Annual Garden Grove Strawberry Festival
Friday – Sunday, 10 AM – 10 PM
Euclid Street & Main Street, Garden Grove, 92840
$30, carnival rides, parades, food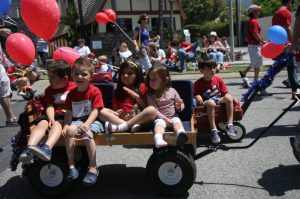 43rd Annual Memorial Fiesta Days
Friday –  Monday,
Food, live music, vintage car show, fireworks and more
California Gold Rush Beer& Sour Festival
Saturday, 1 PM – 6 PM
Sample craft beers and sours from breweries in Cali, plus,  food trucks and watch and wager on Live Thoroughbred racing
Related Post: Memorial Day Weekend Events and Quick Road Trips 
Mark your calendar: 
Paso Robles Olive Festival, Downtown City Park
Throughout the day professional chefs will perform cooking demonstrations while vendors offer free samples of their products and seminars about olives. Music, wine and beer tasting (wine and beer tasting tickets are $15.00), a Culinary Row, special and children's entertainment located near the playground.
10 AM blessing of the Festival at St. Rose Catholic Church
Open cooking competition, begins at 9:30 AM.
June 4th until 5 PM