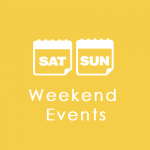 Dine LA Restaurant Week runs July 14th – 28th; the special pricing makes it an ideal time to try a new restaurant or revisit an old favorite. Looking for something fun to do this weekend? Here's the list:
What: Glendale Cruise Night, live entertainment, fireworks
When: Saturday, July 15, 2017 @ 5:30 pm – 10:30 pm
Phyllis' Tip: Have an early dinner at Damon's steak house, parking should be easier.
What: South Pasadena Arts Crawl, Bring a blanket and end the evening on the lawn next to the Iron Works Museum (913 Meridian Avenue) to watch "Grease" starting at approximately 8:45
When: Saturday, July 15th 5 – 8 PM
Where: 1121 Mission St. South Pasadena,
What: Rooftop Cinema Series, a complimentary open-air screening of the Fast and Furious
When: Saturday, July 15th
What: La Crescenta, La Canada Flintridge Beach Bus 
When: Tuesdays, Thursdays, Fridays, Saturdays and Labor Day, through September 5
What: Bob's Big Boy, Classic Car Show
When: Fridays 6 PM – 10 PM, car hop service Saturday and Sundays 5 PM – 10 PM
Summer Concerts:
What: Starlight Bowl Summer Concert Series
Where: The Starlight Bowl, 1249 Lockheed View Dr., Burbank
When: Sundays, through August 5th
What: Performances on the Plaza 
When: Saturdays, 2 – 4 PM, through August 5th
Where: Downtown Glendale Central Library
What: Brand Park Summer Concert Series http://www.glendaleca.gov/government/departments/library-arts-culture/arts-culture-commission/summer-sounds-on-the-plaza
When: 7 PM Fridays, through August 25th
Where: 1601 W. Mountain St., Glendale
What: Music in the Park
When: Sundays 6 – 8 PM, through September 30th
Where: La Canada, Memorial Park
What: Free Jazz Summer Concert Series
When: Sundays, through August 27th, 5 – 7 PM
Where: Vroman's outdoor courtyard, 695 E. Colorado Blvd., Pasadena