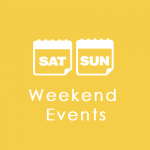 I had a great Dine LA lunch at Smitty's in Pasadena last week; Dine LA Restaurant Week runs through the 28th.  For those of you looking for something fun and different to do this weekend, here's the list of what's happening in my favorite LA neighborhoods:
What: Delicious Little Tokyo
When: Friday, July 21 – Sunday, July 23
Where: Los Angeles, Little Tokyo
What: Roaring Nights at the Los Angeles Zoo
When: July 21st
What: Berry and Fruit Picking
When: Through mid-December
Where: Underwood Family Farms, Moorpark
What: Play explores the role of toys; dolls, board games, video games, outdoor activities, Visitors are invited to get hands-on with games of the past and present—no assembly required.
When: Sundays, through January 7th 2018
Where: The Autry Museum at Griffith Park
What: Street Food Cinema; The Goonies
When: July 22nd
Where: Pasadena Victory Park
What: Old Pasadena Summer Cinema
When: Saturdays through July 29th
Where: Various Pasadena locations
What: La Crescenta, La Canada Flintridge Beach Bus
When: Tuesdays, Thursdays, Fridays, Saturdays and Labor Day, through September 5
What: Bob's Big Boy, Classic Car Show
When: Fridays 6 PM – 10 PM, car hop service Saturday and Sundays 5 PM – 10 PM
Summer Concerts:
What: Starlight Bowl Summer Concert Series 
Where: The Starlight Bowl, 1249 Lockheed View Dr., Burbank
When: Sundays, through August 5th
What: Performances on the Plaza 
When: Saturdays, 2 – 4 PM, through August 5th
Where: Downtown Glendale Central Library
What: Brand Park Summer Concert Series 
When: 7 PM Fridays, through August 25th
Where: 1601 W. Mountain St., Glendale
What: Music in the Park
When: Sundays 6 – 8 PM, through September 30th
Where: La Canada, Memorial Park
What: Free Jazz Summer Concert Series
When: Sundays, through August 27th, 5 – 7 PM
Where: Vroman's outdoor courtyard, 695 E. Colorado Blvd., Pasadena
Looking to buy or sell real estate? Give me a call @ 818 790-7325 – I am spending my weekend local.