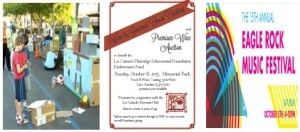 Wine and gourmet food tasting
Sunday, 3 PM – 7 PM
More than 25 restaurants, caterers and food specialty shops will serve tastes of their delicious cuisine along with wine purveyors pouring exceptional wines from around the world.  Admission is $60 at the gate on the day of the event.  For more tickets information call (818) 790-9901.
The Write Stuff, a Craft Program for Kids
Saturday, 2 PM
4545 Oakwood Dr. La Canada, CA 91011
Make and take home your own paper writing quill, learn to make invisible ink, create and send a postcard and create a clothespin message.
Chili Cook Off
Sunday, 6 PM
Taste all the different chili styles.  Hot and spicy, mild…with beans or not…all full of flavor!
5th Annual Box Car City
Saturday, 3 PM
This annual event shines a spotlight on the plight of homeless families in our community while giving participants an opportunity to see what it's like to spend the night without a roof over their heads.  Meals (dinner and breakfast) are provided for all overnight participants. Each box car will be for sale for a $50 donation.  A "Battle of the Bands" will follow dinner at 8:00 PM with more entertainment and Open to the public at no cost.  $5 donation is requested for those enjoying the entertainment but not staying overnight. Food will also be available for purchase.
Eagle Rock
15th Annual Eagle Rock Music Festival
Saturday, 4 PM
Center for the Arts Eagle Rock is celebrating 15 years as an organization, with the Eagle Rock Music Festival as its annual event, a milestone for this community. Your $10 suggested donation supports the arts.
Moon Celebration
Saturday, 12 PM – 6 PM
Traditional dance and musical performances, Shaolin kung fu, crafts, painting demonstrations, tea and mooncake samples plus historical Chinese costume dress up. $10 for General Admission
Kids Space Pumpkin Festival
Saturday, 9:30 AM – 5 PM
Many attractions are free including live performances, select crafts, promotions at Radio Disney tent, and a photo opportunity at the pumpkin patch.  Tickets are available for purchase to enjoy bouncers, pony rides, games, food, and many other attractions.
Altadena
5 Alarm Fire Engine Festival at Little Acorns Grow Altadena
Sunday, 11 AM
Everyone gets a free ride on the fire truck, learn fire safety from a real fire fighter and get to handle the equipment. Bouncy house, face painting and pumpkin patch.
Los Angeles
Mommytrain's Creative Kids Event at Art Zone
Friday, 12 PM – 2 PM
Parents are invited to socialize, snack and learn tips and tricks to get creative with the kids.
American Indian Culture Family Day
Sunday, 1 PM – 4 PM
The Autry celebrates American Indian culture with special docent-led family tours, live American Indian music, and a special American Indian cultural presentation from John Bradley (Comanche/Cherokee), a nationally recognized expert in basketry and traditional arts.
Hollywood
The Wizard of OZ
Sunday, 7:30 PM – 10 PM
Pantages Theatre
This new production includes all the songs your kids love, plus a few new ones by Tim Rice and Andrew Lloyd Webber. Scarecrow, Tin Man, Lion, Dorothy (and her little dog, too) journey through the magical land of Oz to meet the Wizard and obtain their hearts' desires, dodging wicked witches and flying monkeys along the way.
2013 Halloween Events