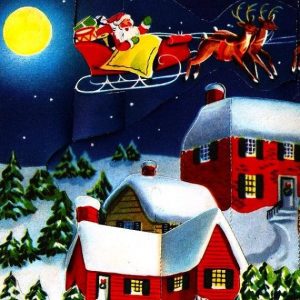 For those of you not focused on shopping, there are a great assortment of holiday events to get you in the mood for Christmas.  The Montrose Christmas Tree Lighting is a big event for children as well as the Old Town Christmas Celebration. Here's the list of Los Angeles Christmas Events 2019:

La Canada
Enchanted Forest of Light 
Now through January 5, 2020
Christmas carolers and food vendors
Montrose
Christmas Tree Lighting 
November 29th @ 7 PM
Christmas carolers and food vendors
Montrose Old-Town Christmas
Starting November 30th through December 22nd, Saturdays and Sundays , 12 PM – 3 PM
Santa Claus, horse drawn trolley rides, Pony rides, food vendors and live Christmas music and Sundays – Montrose Harvest Market with Ponies & Petting Zoo – 9 a.m. to 2 p.m.
Glendale
Glendale's Holiday on Ice
November 22nd through January 6th
Glendale's first outdoor skating rink.
Ugly  Sweater Party 
December 21st  4:00 PM – 7:00 PM
Between Broadway and Wilson, Glendale
Eagle Rock
The Muddy Paw Prints Holiday Costume Party
December 7th, Saturday, 6 PM – 8 PM
Pet's costumes can be festive, themed, wacky, funny – just not too big or bulky (space issues).
Burbank
Holiday in the Park 
November 22nd @ 6 – 9 PM
Photo ops with Krampus, Santa Jack & Santa Clause with a $10 donation to benefit Magic Wheelchair
Pasadena
Holiday Cocktail Workshop
7:00 pm–9:00 pm
The interactive session lets you learn how to prepare, measure, and mix delicious, holiday-themed, seasonal cocktails.
Santa Photos
November 29th through December 24th
One Colorado is providing all-access to Santa this season. It's a busy time for him, but he'll be here for photos sessions. Load up the fam and bring them on over for that annual Holiday photo. Matching and/or bad sweaters optional.
Pasadena Holidayfest
December 7th @ Noon – 5 PM
The Shops on Lake Avenue offer festive activities include a themed scavenger hunt, live music, photos with Santa, holiday crafts for kids, carolers, cookie decorating, holiday character photo ops, raffles, giveaways and much more!
Tree Lighting Ceremony 
December 7th @ 5 PM – 7 PM
Live entertainment, music, holiday treats and more
A Groovy Holiday Kick-Off Party
December 7th @  7 PM – 9 PM
Ring-a-Ding-Ding in the Holidays at One Colorado's Groovy Holiday Kick Off! We're planning a crazy cool night with the band Nutty performing their "martini mix" of jazz, swing and lounge.
Castle Green Holiday Tour
December 8th @ 1 PM – 5 PM
Our annual Holiday Tour is the perfect way to kick off the 2019 Holiday Season at Castle Green!  The wonder of Pasadena's golden era awaits you, as the Castle celebrates the holidays!
A Snow White Christmas
December 13-22
This interactive experience goes beyond a traditional musical production
Los Angeles
Hollywood Christmas Parade
December 1st, 5 PM
Live musical performances, festive floats and more, seating starts at $45
Los Angeles Zoo Lights
Friday – Sunday, 6 PM – 10 PM
The zoo will be decorated with festive lights, family friendly activities and more
San Marino
Saint Albans Road Lights
December 1st – January 5,  5 PM – 11 PM
The trees along Saint Albans Road are looped with lights make them look like huge Christmas trees.
Woodland Hills
Candy Cane Lane
Second Sat. of Dec. through the end of the year, nightly after dark
This little West Valley neighborhood at the intersection of Oxnard St. and Lubao Ave. in Woodland Hills is just a couple of blocks and can be a stay-in-your-car adventure, but the closer you get to Christmas, the longer it can take (up to two hours), so plan on going early in the season.
Whatever your religious affiliation, may the message of the season, Peace, Love, Kindness..  be in your heart.