Los Angeles Mother's Day Weekend Events 2023, looking for fun things to do with mom?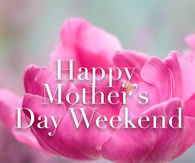 Mother's Day Dining at the Langham – Brunch in the Huntington Ballroom or Brunch on the Terrace to a Mother's Day Tea. 1401 South Oak Knoll Avenue, Pasadena
Mother's Day Pampering at Sephora at the Americana at Brand Through Sunday, schedule a self-care day for the mother in your life. Make it a party of two to celebrate your time together by enjoying a HydraFacial in-store at Sephora. 889 Americana Way, Glendale
LA County Fair – Where Fun Blooms, Through May 29th. 1101 W. McKinley Ave. , Pomona
 2023 Pasadena Showcase House  – Through May 21st.  Stewart House, a 1933 grand colonial estate with spectacular acreage in a storied neighborhood of Pasadena. Designed by Marston & Maybury, one of Pasadena's most celebrated architectural partnerships, Stewart House takes us back to the days of gracious architecture and quintessential Showcase with over 11,000 square feet of living space sited on two acres of carefully landscaped and exquisitely manicured grounds.
Rose Bowl Flea Market Sunday- Vintage treasure hunters and bargain seekers flock to the legendary Rose Bowl Flea Market. The second Sunday of every month, experience over 2,500 vendors full of antiques, vintage clothing, local art, and specialty products. Rose Bowl Stadium,1001 Rose Bowl Dr., Pasadena
The Original Renaissance Pleasure – Every weekend, celebrates the joy and spirit of the Renaissance. Saturdays and Sundays, through May 21, 2023, 10 a.m. – 7 p.m. Santa Fe Dam Recreation Area- 15501 E. Arrow Highway, Irwindale, CA · Ph: 626.969.4750.
Mount Wilson Observatory Sunday Afternoon Concert in the Dome presents LOUNGE ART ENSEMBLE – May 14 @ 3:00 pm – 7:00 pm Directions to Mount Wilson Observatory
Chocolate Sundaes Comedy at The Laugh Factory Hollywood – a potent mix of seasoned veterans and up-and-coming comedians you've seen on all the major networks. You never know who may be in attendance in the audience. Come dressed to impress and be a part of one of the best audiences in Hollywood! 8001 Sunset Boulevard, Los Angeles
Butterfly Season at Kidspace through May 14th – Celebrate the habitat and life cycle of butterflies and other pollinators. Connect with nature in new exhibits, activities, and programs. Create a caterpillar – shape it out of clay, add seeds, and watch your fuzzy friend sprout at home. Dress up like a butterfly and spread your wings in fantasy flutter-by. 480 N. Arroyo Blvd., Pasadena
The Nitecap – Standup Comedy in Burbank Friday & Saturday Burbank's NEWEST comedy spot, The Nitecap, features the top comedians from HBO, Netflix, and Showtime! Nitecap 2200 West Burbank Blvd, Burbank
Reoccurring Events:
Smorgasburg LA –  Sunday, 10 am-4 pm at @rowdtla. Free, Family Friendly Beer Garden DTLA 777 S. ALAMEDA ST, LOS ANGELES
Sunny Day Scoot is a one-of-a-kind, fully immersive, interactive outdoor experience featuring the best sightseeing in Los Angeles—various locations.
"Best View in Hollywood" – Horseback riding at Sunset Ranch Hollywood, 3400 N. Beachwood Dr., Los Angeles
Electric Dusk Drive-In Movie Friday through Sunday. 236 N. Central Ave., Glendale
Take a self-guided Historic Glendale tour  of Historic Glendale and enjoy exercise with a history lesson.
Old Pasadena Scavenger Hunt Walking Tour and Game. Enjoy a guided walking tour of beautiful and exciting parts of Old Pasadena while following clues on your smartphone and solving interesting puzzles.
Walking the Music Box Loop in Silver Lake – Starting Point: Café Tropical, 2900 Sunset Blvd, Los Angeles
Burbank Self-Guided Street Art Tour – Street art shows up throughout Burbank and makes for an engaging stroll through the city.
Local Botanical Gardens:
Descanso Gardens Events
Huntington Library
The Arboretum
Farmer's Markets:
Atwater Village Farmers Market, 3250 Glendale Blvd.
Sunday 9 AM – 2 PM
Burbank Farmers Market, Olive & Glenoaks
Saturday, 8 AM – 12:30 PM
La Canada Farmers Market, 1346 Foothill Blvd.
Saturday, 9 AM – 1 PM
Los Angeles Original Farmers Market, 6333 W. 3rd St.
Open seven days a week
Los Feliz Village Farmers Market,  1825 N. Vermont Ave.
Sunday, 9 AM – 2 PM
Montrose Harvest Market Honolulu Ave and Ocean View Blvd.
Sunday, 9 AM – 2 PM
Toluca Lake Farmers Market, 10225 Riverside Dr.
Sunday 9:30 AM – 2:30 PM
Pasadena Certified Farmers Market,   Victory Park, 2900 E Sierra Madre Blvd. at Paloma St.
Saturday, 8:30 AM – 12:30 PM
Silver Lake Farmers Market, 3700 Sunset Blvd.
Tuesday 2 PM – 7:30 PM
Saturday 8 AM – 1:30 PM