The foreclosure process has been under scrutiny. There are talks of revisions, and there could likely be more changes at any moment.
You should contact a real estate attorney and a CPA for specific information regarding your circumstances. Below is a general guide:
Notice of Default (NOD): Notifies the borrower of their nonpayment (default). The information can be sent as early as one week after the first missed payment. However, most lenders generally wait for a minimum of one to two months after the missed payment.
Notice of Trustee's Sale: Determines the auction sale date, which is a minimum of 90 days after the Notice of Default has been filed.
Auction: The auction is a minimum of 20 days after the Notice of Trustee's Sale. However, it may be extended for up to one year. The borrower may reinstate the loan by paying the default up to five business days before the auction date. Which includes missed payments, late fees, and administrative fees. After the five-day reinstatement period, the borrower may only redeem the property by paying the entire balance in full. This includes the loan balance, plus missed payments, late fees, and administrative fees. Investors can purchase the home at auction with a cashier's check for the amount of the outstanding debt plus the foreclosure costs. The property can be overbid and sold to the highest bidder at the auction. However, due to a lack of anyone meeting the minimum bid, the property reverts to the lender.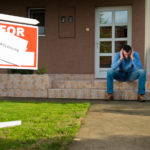 Distressed homeowners should be aware that each legal action hurts their credit rating. Homeowners who address the situation sooner rather than later can often avoid some adverse credit reporting. Those facing foreclosure should seek advice from a real estate attorney.
Foreclosure alternatives for distressed Los Angeles Homeowners, Applicable to owner-occupied loans originated between 2003 to 2007:
Before the lender initiates the foreclosure process, the lender must attempt to contact the borrower by telephone or in person. If by phone, the lender must inform the borrower of their right to meet face-to-face within 14 days. The lender must also provide the toll-free number of a HUD-certified counseling agency.
Specifically, thirty days after the lender has attempted (or made) contact with the borrower, the lender may file a notice of default.