We just listed: 7669 Le Berthon St., Tujunga. Sited on a charming peaceful street in the hills of Tujunga, convenient to schools and shopping. Corner lot and RV Parking with ample room for lots of toys. The pool has been recently repaired at a cost of over $10,000. Inside you will find a 3-bedroom, two bath home with master suite and an updated kitchen. The interior is just waiting for your finishing touches.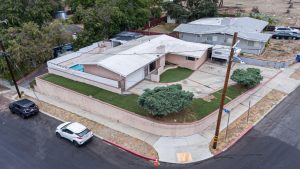 Some probate sales such as this, require court confirmation. In California, when anyone dies without a living trust, probate is required. When someone passes with a will and an Executor is designated, who is willing and capable of acting, then the Executor is granted the authority to handle the Estate. If there is no will or the Executor is unwilling or unable to perform the duties, then the court appoints an Administrator. When confirmation by the court is required the process takes much longer than traditional real estate sales.
Click here to learn more about Los Angeles probate sales.