Once the center of the American Arts and Crafts Movement, Pasadena, California, is popular for its wide array of architectural styles employed by premier architects. Even if you aren't a history or architecture buff, you will surely appreciate Pasadena's numerous historic neighborhoods. Prime architectural examples include Greene and Greene's Gamble House and Frederick Roehrig's Castle Green. Let's take a look at popular historic Pasadena neighborhoods: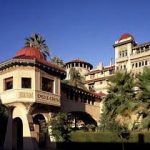 Because of its beautiful character homes and historic neighborhoods, Pasadena real estate is highly sought after. The city is extremely walkable and boasts museums, fine restaurants, hiking trails, and an enviable rapid transit system.
Pasadena's first historic district is named Bungalow Heaven because of the hundreds of petite Craftsman and Bungalows built in the 1900s-1930s, most of which remain. This neighborhood experienced a significant restoration in the late 1970s. And many of the renovated homes remain true to their historical style. Bungalow Heaven has been designated as one of the "10 Great Places in America" by the American Planning Association.
East of the South Lake District is the world-famous California Institute of Technology (Caltech) campus. Further east and south, on the San Marino border, are the Huntington Botanical Gardens and Huntington Library. This area is known for its tree-lined streets and architecturally significant Spanish-style single-family homes.
With just under 500 homes, this neighborhood was once a favorite campsite of California Indians. Later, large ranchos were created, and in 1869 Alfred B. Chapman acquired nearly 2,000 acres of the Santa Anita Rancho for $10.00 per acre. In the 1920s, Jim Stewart and Ben Quigley opened a real estate office and began subdividing Chapman Woods into the homes we have today.
This is a tree-lined neighborhood of more modest homes. Highlights of Daisy Villa include the popular Victory Park and its Farmer's Market.
East Orange Grove
Originally referred to as Illinois Street, this modest neighborhood is predominantly residential. East Orange Grove is home to Vina Vieja, an off-leash dog park.
Annexed in 1904, Garfield Heights is Pasadena's second official Historic Landmark District. It is one of the city's oldest intact neighborhoods. Beautiful historic homes were mainly constructed from the late 1800s to the early 1900s. Architectural styles range from Craftsman and Bungalow to small vintage apartment buildings. The neighborhood is architecturally diverse, with over 400 homes, some constructed by notable builders. Garfield Heights experienced a major revitalization in the late 1990s.
Hastings Ranch
Lower Hastings Ranch: In the late 1940s, Edward H. Fickett accepted the offer to design the Hasting Ranch tracts. This area boasts mostly single-family homes.
Upper Hastings Ranch: The construction completed in phases displayed 800 homes built in 1951 in the Upper Hastings Ranch area.
Incorporation into the city of Pasadena took place in 1925 for the Historic Highlands. This area transformed from a remote country outpost to a vibrant neighborhood. There are more than 700 renovated and restored homes. The predominant architectural styles are Craftsman and Bungalow, but you will also find some Spanish and Prairie styles as well.
The Jefferson Park neighborhood boasts primarily modest character homes. The neighborhood is both easily walkable and bikeable. The Jefferson Park Recreation Center is nearly 4 ½ acres and offers volleyball courts, a basketball court, a baseball diamond, and soccer and football overlays.
To relieve Pasadena's housing shortage from the mid-1940s to the early 1950s, new tracts of homes were built in the Linda Vista area. This quiet, wooded residential community is now one of Pasadena's most sought-after locations. There are approximately 1,400 homes in about 2 ½ miles. Linda Vista has a variety of beautifully designed mid-century dwellings, including the highly sought-after mid-century housing tract Pegfair Estates. Due to its proximity to the Rose Bowl and Old Town, Linda Vista is a highly desired neighborhood. Not far from Annandale's business district is San Rafael Park, which is adjacent to Colorado Boulevard and Avenue 64. The number of mature trees adds to Annandale's ambiance.
Most of this neighborhood's development occurred in the 1910s. The next decade brought more growth as working professionals moved there. Today, Madison Heights, appreciated for both beautiful residences and luxury estates, ideally sit between the South Lake Shopping District and Old Town. The neighborhood has a variety of restaurants and shops nearby.
Oak Knoll
Pasadena's grandest neighborhood was built to showcase the native oaks growing in the area before the turn of the 20th century. Oak Knoll's most notable estate is the former Ritz Carlton, now Langham Huntington Hotel and Spa. This neighborhood is known for its beautiful homes and estates designed by famous architects such as Greene & Greene, Myron Hunt, Sylvanus Marston, and Wallace Neff.
Orange Heights
In 1995, Orange Heights became the first Pasadena neighborhood added to the National Register of Historic Places. Formerly known as "Pill Hill" because of the large number of physicians and caregivers who resided there, Orange Heights has always been at the heart of Pasadena's civic life. The neighborhood still appears today, much as it did a century ago.
By the 1940s, Pasadena's housing shortage led to the development of the San Rafael neighborhood, with new homes constructed for wealthier residents. Predominantly residential, this neighborhood may feel isolated, but it's still near shopping and restaurants. This sought-after community offers a variety of secluded, hillside properties, including some dramatic mid-century homes. Many homes enjoy the sweeping city, mountain, or arroyo views.
This historic district encompasses approximately 250 homes slowly built between 1910 and 1940. It's been renamed several times, having been known as a portion of Orange Heights, Clement Heights, shortened to CLEM, then renamed Heather Heights until the late 1990s when it was renamed Washington Square. Architectural styles range from Craftsman, Tudor, English Cottage, and Spanish to Traditional.
Want to learn more about the historic Pasadena neighborhoods, or are you dreaming of making Pasadena your home? Contact us for a 15-minute buyer consultation. It's simple, and moreover, it's free, and there is no commitment.