I was raised in Glendale. My brother, sister and I attended Glendale schools:  Incarnation, Toll, and Hoover.  Twenty years ago, my parents moved to Washington State, my sister and brother followed.  I love living in Southern California and can't imagine moving to a rainy climate.
Last week, my daughter, Kristen and I traveled to visit family.  We had such a great time! The first night all of us met for pizza.  We were staying at my sister's home in Edmonds and had to drive 20 minutes to reach the restaurant. At my La Canada home, pizza and other restaurants are within walking distance.  The next evening we were supposed to take a ride on my brother's boat, but the weather was bad; it drizzled two of the four days we were there.
My mom, sister, daughter and I visited the Chihuly Garden and Glass Museum and Pikes Place Market for fresh produce (we cooked a lot at my sister's).  But LA has lots of great places, and we also have the Grand Central Market.  Each Saturday I go the La Canada Farmer's market, according to my sister other than the Pike's there isn't a nearby local farmer's market to her home.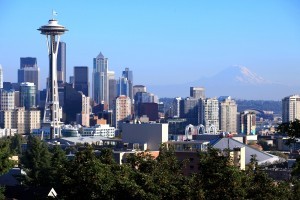 We took a pizza making class at Serious Pie  which was a lot of fun.  But LA offers pasta making classes at Drago's which I have taken and really enjoyed.  Seattle is a great city, but I wouldn't leave Los Angeles for it.