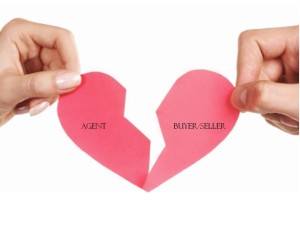 I think Frankie Vallie and the Four Seasons sang it first.  I saw the musical Jersey Boys in New York and LA and loved it…. can't wait for the movie.  But back to real estate…. breaking up can apply to buyers and their Realtors too.  When is it time for a buyer and their real estate agent to call it quits? Here are ten reasons a home buyer should part ways with their Realtor:
One of my biggest Realtor peeves is that I will look nonstop for the perfect home…. I don't care how long it takes, but when I think I have found it, I expect my home buyer to take the time to look at it.  We all have busy lives, and one of the unwritten rules of real estate is that you will likely find your dream home when it is most inconvenient; maybe you are going on vacation, perhaps you have guests in town, or maybe the kids just started school.  It doesn't matter – in this heated seller's market; no one is going to wait for you.
But when should a home buyer decide that it's time to find another real estate agent?  Here are the top ten reasons a buyer should fire their Realtor:
1)      You don't trust them.  Doesn't matter if it's you…and not that your agent is untrustworthy, the most critical aspect of your relationship is trust.
2)      You don't like them.  As you are going to be spending a lot of time together;  at a minimum you should be able to bear spending an afternoon together.
3)      Your agent goes off the grid.  If you contact your agent Friday night and they get back to you Saturday morning… I think that's okay – real estate is not conducted 24 hours a day.   When you call them Saturday morning, you might assume they have other clients and are showing homes on Saturday… but they should be able to reach out to you to let you know that they will be contacting you in the afternoon.  Or maybe you have a Realtor that goes on vacation and doesn't have a backup plan/agent.  Joe and I cover for each other when we are out of town.
4)      Your Realtor is unfamiliar with the neighborhood. Each location has nuances, should you be South of Foothill or North of Kenneth?  Your agent needs to be familiar with the community and schools (doesn't matter if you don't have children, schools = resale and everyone should be concerned with resale).
5)       Your real estate agent is a part time agent or inexperienced.  You wouldn't hire a part time surgeon – why hire a part time Realtor?  During the first few years of my real estate career, I learned a lot and most of it was on the job training….. "I would handle that differently next time".  Don't let your Realtor learn at your expense.
6)      Your agent has a big mouth.  Your information is personal and confidential and must be kept that way.
7)      Your Realtor refuses to make recommendations.  Years ago, I worked with a local broker who was terrified of her agents being sued.  We were advised that if a buyer asked for a recommendation to advise them to check with friends, family members or we could hand them the Yellow Pages (no lie).   Your real estate agent should have a powerful rolodex and they shouldn't be reluctant to share.
8)      Your agent doesn't respect your time.  If your agent is showing you homes that aren't a good fit, find out if it's your price range, unrealistic expectations or if they are simply wasting your time.
9)      You learn that they aren't respected in the Realtor community. No, we aren't in high school, but in multiple offer situations you wouldn't want your offer to be viewed negatively because the listing agent thought your Realtor was annoying, a trouble maker a slacker or????  Relationships in this business count!
10)  Your agent refuses to offer their opinion.  We don't have a lot of tract homes in our LA Suburbs; we are typically comparing apples to oranges.  The home with the big back yard might be offset by the busy street.  It is your agent's job to advise you of resale ramifications before you close escrow.
If you are in the market for a real estate agent, maybe you just found her!