We've been busy at Harb and Co. We've been meeting inspectors, showing homes, all the things real estate agents do on a daily basis. Here's what's happening at Harb and Co.
I can't remember the last time I cancelled a listing. I listed a La Crescenta starter home a month ago, and was helping the owner prep it for sale. We were going to make it move-in ready for a first time buyer. I contacted my favorite a/c contractor Gilmore Heating and Air to obtain an estimate for central a/c and heat and my home inspector.
My home inspector gave us some very bad news: this La Crescenta home was on a rock foundation. Not to be deterred, since my South Pasadena Craftsman I sold last year had one too…. that solution was a sister wall which is not cheap but could still be in the budget. I contacted Seismic Safety in Pasadena for an additional inspection and sadly the news was bad, very bad, the bid was over $40,000. Because this starter home backed to commercial property and had a confusing floorplan, I could not recommend that the owner invest over $40,000 repairing the foundation. He contacted another seismic expert… same conclusion.
I told the owner, that I did not recommend throwing good money after bad. I would sell the home AS IS, (and disclosed) but would take no part in him repairing the foundation and fixing the home. I was fearful he wouldn't get his money back. Sadly the owner did not have the home inspected when he purchased it fifteen years ago. I cancelled the listing, the owner and I parted on good terms. I feel terrible for him and recommended he contact a very honest investor I know that can help him. Maybe they can do a joint venture, the homeowner supplies the home, the investor supplies the repairing.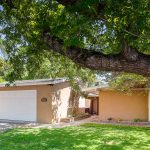 Last week, I closed my Palmer and Krisel mid-century home in the San Fernando Valley and closed escrow (representing the buyer) on a Webster Wiley atrium style mid-century in the popular Pinecrest neighborhood in La Crescenta.
I listed a commercial automotive repair in Glendale. I am not an expert, but my brother-in-law and partner Joe Harb has an extensive commercial background. The sellers are long term clients; I have listed and sold them many properties over the years. I am waiting for the property to be measured and then overlaid on the lot. I prefer to have all marketing in place prior to coming on the market (you only have one opportunity to make a first impression).
I had my final walk through earlier this week on my Mayfield listing in La Crescenta. The buyer has removed their investigative contingency on my beautiful Markridge listing.  I am hoping to get a listing for a mid-century Pasadena home and some units in Altadena.
How's your summer going?