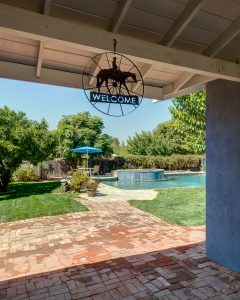 This week my co-chairs and I are wrapping up our auction items for the Pasadena Ronald McDonald Gala. In the meantime, Harb and Co. is busy listing, marketing and selling Los Angeles real estate.
Check out our real estate lifestyle video for our new Shadow Hills Equestrian home   We are closing our Burbank Rancho listing this week. Kris met the buyer at one of our open houses. Last week we closed our San Gabriel Valley condo, Kris also met that buyer at an open house.
My big news is that my darling clients were the successful bidders on a La Crescenta pool home.  We had lost out on a listing in Sparr Heights, and fortunately something even better came on the market. We are just waiting on the sewer line inspection.  Regular readers of my real estate blog know that this is a tough market for home buyers.  The reason my buyers were the successful bidders was because we crafted our offer to meet what we anticipated a long term homeowner would want.
My Glendale listing in the Verdugo Woodlands is in escrow, Joe met the appraiser on Monday.  The seller of the Pasadena Spanish home keeps getting more ambitious about repairs – I don't know if this character home will make it to market before Christmas…. we may wait for the new year.  I am working on one more listing in the San Gabriel Valley, but again uncertain if we can get it on the market before Christmas.
If you know anyone looking for a great horse property, my listing at 10805 Art St. will be open this Sunday from 2-4 PM.
Related Post: Why your offer to purchase was not accepted