Flora Morgan is in escrow but we only met the appraiser there yesterday.  Not certain what the appraisal hold up was, but the entire process is now different. For those of you who don't know, lenders no longer order the appraisal directly, they contact a management company who does and then the appraiser contacts the real estate agent for access, completes the appraisal and submits to the management company who in turn gives it to the lender.
Just imagine if each morning, I made my husband George breakfast but I couldn't ask him what he wanted or give it to him directly.  George would contact the "management company" and ask for a bowl of oatmeal.  The "management company" would contact me; I would make the oatmeal and contact the "management company" when it was ready.  Then the "management company" would contact my husband and let him know the oatmeal was ready.  The entire process is just this stupid.
The nature of the sub-prime crisis was not caused by appraisals.  It was a result of making loans to people with zero down payments.  Many of these loans had negative amortization and when the loan balances increased by 25% the home buyer/owner's payment was recast (adjusted) and typically increased more than $1,000.00 a month.  That's simply a recipe for disaster.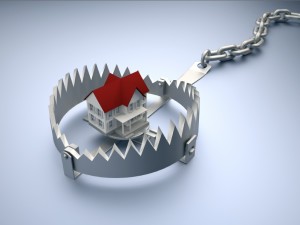 The landscape and paint were completed and 1400 Stanford Drive  is on the market and open this Sunday.  I love when the homeowner uses my vendors.  I have a team of great painters and landscapers.  Their prices are fair, they know what to do and do it well and on time.
The La Crescenta 4 + 2 is being painted, part of the landscape is done (not my landscaper and I was hoping for more attention to detail).  A big part of a real estate agent's job is assisting the seller in maximizing their bottom line.  Often this can simply be accomplished by creating curb appeal.
Next week hedges are being trimmed at my Arcadia listing (16,000+) square foot lot, 3 + 3 + pool.  The yard is enormous but hedges divided it and made it appear choppy.
One of my favorite painters  will be painting a couple of rooms of my new Toluca Lake listing and that will be coming on the market this year as well.
I have a new condo listing in the San Fernando Valley, completely updated.  That should also be on the market this year.   And working on getting an Altadena home listed (wish me luck!)