A big portion of a Realtor's job description is to preview property.  We do this so we can keep up to date on real estate market trends, pricing and current inventory.  Although I have several buyers' agents, I often have a handful of buyers I am working with.
Last Friday I had the pleasure of previewing the Bob Hope Estate in Toluca Lake.
Click here for the professional photos
Not quite certain what a buyer in the $27.5m price range will think but I thought the home was amazing, very comfortable, private and unpretentious.  The guard's gate house offers a suite of offices and a meeting room with fireplace.  The home's primary dressing area and bathroom is amazing.  Additional features include guesthouse, gardens, 3 par golf course, indoor and outdoor pool.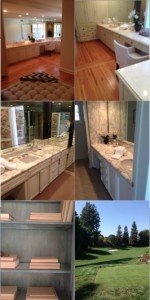 A couple of home staging tips I noticed:
Q-tips and cotton balls in glass dispensers with an orchid and white towels in all bathrooms.
Interestingly all of the books were covered in brown paper (my stager said to keep things neutral).