We just listed 10221 Odell Ave., Sunland. This is a three bedroom, fixer in a prime South Sunland location.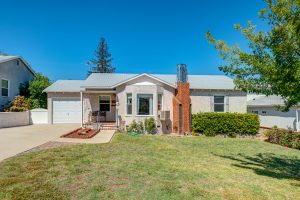 We will be open Friday 10 AM – 1 PM and Saturday and Sunday from 2-4 PM.
Growing up in Glendale the first time I went to Sunland was to babysit for my boss. This was before the freeway and it was a very different neighborhood.  Very out of the way and remote. Young families lived there because it was affordable.  Bikers and neo-nazis lived there too because of the isolation.
The 210 freeway was built and the neighborhood changed. I don't know where the bikers and neo-nazis went but they have long since moved on. This South Sunland neighborhood is more conforming than the neighborhood north of the boulevard.
One of the first homes I sold when I began selling real estate was a South Sunland starter home. The wife was pregnant and this was their first home.  Over the course of more than twenty years, I sold them two more homes. Last year, I sold their dream home, the kids are grown and they downsized to a Pasadena townhome.