La Canada real estate  values have increased 22% from last year.  Cash buyers continue to play a major role in La Canada real estate sales.  Cash transactions comprised  17% of last month's home sales.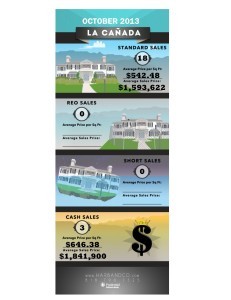 Let's see how La Canada real estate values compare to last years:
In October 2012, 18 La Canada homes sold. The average price per foot was $443.84, average days on market was 80 and the average selling price $1,112,167.   Last year the average La Canada home sold for 100% of list price.  While last month La Canada foreclosures and short sales were nonexistent, a year ago, these distress sales comprised 17% of all La Canada home sales.
Last year the absorption rate (number of months it would take to exhaust the housing inventory, assuming no new listings came on the market) was 2.7% vs. this year's 3.05%.