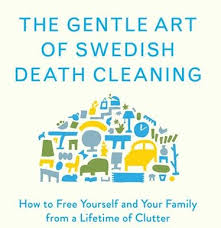 Japanese cleaning consultant Marie Kondo took decluttering to an entirely new level, promising that once you properly simplify and organize your home, you'll never have to do it again. Her technique is for us to part with anything that doesn't spark joy when we touch it. But there's another technique: Swedish Death Cleaning.
Once your children are out of the house, it's time to get rid of all of the stuff that you don't use or need. You know the stuff that you can't bear to part with but your kids don't want. The point is to take care of it now, so your children aren't saddled with the task. Learn more from Margareta Magnusson in her new book, "The Gentle Art of Swedish Death Cleaning: How to Make Your Loved Ones' Lives Easier and Your Own Life More Pleasant".
In Swedish, the exercise is döstädning — a combination of the word "dö" (which means death) and "standing" (which means cleaning). Swedish Death cleaning is not about dusting, it is a permanent form of organization that makes your everyday life run more smoothly. And you may even get pleasure going through things and reliving their memories.
First things first, clear out your storage area. Magnusson has cleaned out the homes of parents, in-laws, and the home she shared with her husband.  It's really about doing a favor for those who survive you.
Next move on to your closet. Sort through all of your clothes and set aside anything you don't wear regularly. Then when you're done, donate what you don't use. Make sure to repeat this process on a semi-regular basis so unworn clothes don't pile up again.
The purpose of death cleaning is to save your loved ones from the task. I am not sure if I am inspired to move forward with Swedish death cleaning, but I know I should. I like the idea of the closet, because I don't wear more than 20% of my clothes, (if even that).