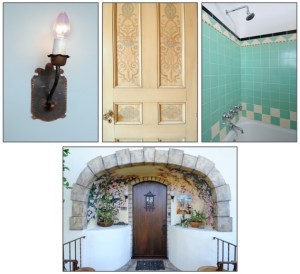 As a real estate agent, I have more requests from homebuyers seeking Spanish (Mediterranean) homes than any other.  Several years ago, I had a lot of potential home buyers seeking Craftsman but at least in my business that interest has waned.
One of my favorite architectural styles is mid-century and Whiting Woods in Glendale, Sagebrush in  La Canada  and the Linda Vista neighborhood in Pasadena (Peg Fair Estates is an especially FINE example) have some stunning mid-century homes.  I love how this style of home embraces the outdoors.
I appreciate a home with character, any kind of character.  Pasadena, Glendale, Eagle Rock and Altadena have numerous neighborhoods boasting custom built vintage homes.  Most designed one at a time and by different architects and builders.  While La Canada was home to the sprawling ranch style home, there are  a sprinkling of amazing character estates.  La Crescenta has several hundred character homes; El Caminito is one of my favorite streets.   Burbank also has a limited number of fine vintage homes and I have sold many of them, the Victorian on Olive, the Federal on Walnut and the Amherst estate.