When my husband George and I purchased our La Canada fixer upper, we had the opportunity to remodel to our taste. High on my wish list of luxury upgrades was an oversized Jacuzzi tub for our master bath. I don't think I have turned on those jets in over a year. What I wish I had instead invested in was a heated bathroom floor and Mr. Steam Shower. 
We also had a wet bar constructed. This is very personal, but when we entertain, we often sit at the bar and enjoy a bottle of wine or a cocktail. The area in our family room where we built the bar was awkward and would not have been useful for much else.
When my daughters graduated college, we converted our five bedroom home to four bedrooms, making two of the bedrooms larger – one of which was converted to a small home gym. We have a (Pilates) reformer, a treadmill, bike and flat screen TV. And yes we use our gym.
We put in a pool (later had it converted to salt water) which was worth the splurge for our growing family. We added an outdoor barbecue, fridge and sink which gets a lot of use. In our Southern California communities, the backyard is often one of the most used "rooms' in the home.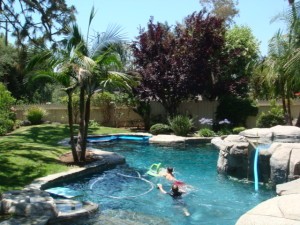 We have a small walk in closet in our master bedroom.  If we had room, I would love a luxurious custom closet. I also wish we had space for a sitting area in our master.  If our lot were more private, a balcony off the master would be lovely too.
What's next on my list?  I hope to remodel our kitchen this year. I think I will forgo the pot filler, and warming drawers. What I really want is top of the line appliances and a kitchen that opens to our backyard.