We just closed escrow on 3056 Alabama Street La Crescenta and here's how it went:
I first met with the seller in December. He and his wife were thinking of relocating. Over their years of ownership they had made some great improvements: they added a master suite with balcony, solar, updated kitchen and a lot of conservation items. The only weak link to this three bedroom, two bath home was the downstairs bathroom.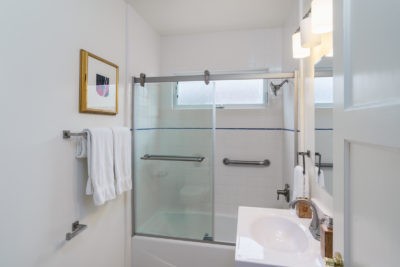 We met again the at the end of March and started preparing this La Crescenta home for sale.  The seller hired their contractor who completed their addition and updated this bathroom and painted the interior. They moved to Northern California and Harb & Co. took over. Harb and Co. had the home professionally cleaned and Upstage Design staged the downstairs. We had the remainder of the home virtually staged.
We were in the MLS as coming soon on May 24 and went active the next day with a list price of $985,000.  By June 3rd we had six offers. We opened escrow on June 5th. We closed escrow at $1,126,000, $168,000 over asking price. This is the dilemma buyers are having: how much to offer.  This buyer also waived their appraisal contingency which is very important in today's market.
Escrow was scheduled to close July 6th.  We closed one week late. Why?  The unfortunate fact is that the listing agent does not pick the buyer's lender. And this buyer's choice of lender was awful. The lender was slow and uncommunicative.  As we had other offers we insisted that the buyer release a portion of his earnest money deposit to the seller as good faith.  If not the buyer would lose the home.  It really makes a difference what lender you select.
Related Post: Not all lenders are created equal