Years ago, I was working in my La Canada office trying to catch up on few things before I took a quick trip to Seattle to visit my family. A man happened to drop in the office asking to meet with a real estate agent regarding his parent's La Canada home. I was the fortunate one. He had met with several other La Canada Realtors and wasn't certain which would be the best fit. As I was leaving town in two days, I didn't have much time to prepare a marketing proposal, but I gave it everything I got.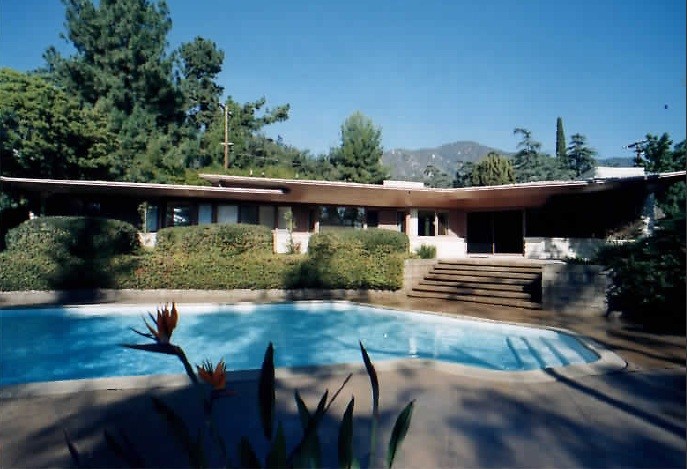 I prepared a marketing plan and was hired. I listed the Gainsburg House, a fabulous mid-century four-bedroom home. The master suite had an attached sitting room with a fireplace and would have made the ideal home office. The only issue was that none of my family loved the home as much as I. The home sold to a Pasadena couple who hired Lloyd's son, Eric to update the home. 
A little history:
Architect Frank Lloyd Wright, Jr. relocated to San Diego. He was hired by one of the first modern architects in California, Irving Gill. Prior to opening his own practice in 1916, Lloyd unsuccessfully asked his father to come to Los Angeles and work with him.  Lloyd Wright's designs reflected the influence of his father while introducing new ideas. Junior designed several homes using his approach to the "textile block" system. A prime example is Los Feliz' Sowden House.  Trademarks of his work include bold, soaring forms. While researching Architect Frank Lloyd Wright Jr., I was told by a biographer that prior to designing, Wright would study the way the light reflected on the property. He would then place the home on the lot to take best advantage of the natural light.
I learned much about Lloyd Wright and later listed and sold the E.R. Lewis House in Glendale.
Related Post: Architect Jack Simison