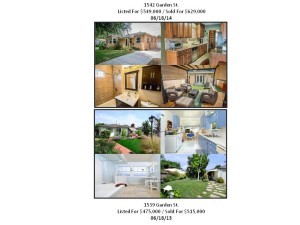 Each month Harb and Co.  analyzes the home sales in La Canada, Glendale, Pasadena and La Crescenta.   We examine each listing in the multiple listing service (MLS); determine the percentage of short sales, foreclosures, standard sales and those which sold for cash.  For five years we have kept track of the monthly average price per square foot, average selling price, days on market and percentage of selling price to list.
Last year, on June 18th, 2013, I closed escrow on 1539 Garden in Glendale (Rancho adjacent). I represented the seller; we listed at $475,000, received multiple offers and sold (closed) at $515,000.
2 + 1, 1123 sq ft, 5,550 lot, built 1939
On 6/18 (this year) the home across the street at 1542 Garden closed escrow:
2 + 2, 1142 sq ft, 5,509 lot, built 1939.  This home which backs commercial property on Victory Blvd. sold for $629,000.
There was an additional bath, kitchen and baths were updated, but that would be partially offset for backing to commercial.  Are you as shocked as I am?