When the time comes to prepare your home for sale, bathrooms make a major impact. With home prices at record levels, buyers are looking for a spa like experience. Bathroom staging can be done on a budget.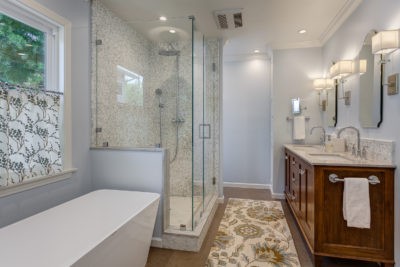 The most important thing to remember is that the bathroom should be clean. Imagine a hotel bathroom and how it looks when you first arrive.  Hide the unattractive, such as plungers, cleaning supplies, and magazines. Remove used bars of soap and personal hygiene products from the tub and or shower. Liquid soap should be in a porcelain pump (not a cheap plastic container from the market). Makeup and hair products should be tucked away.
Accessorize: Towels (preferably bright white) and rugs should be fluffy and immaculate. Roll or fold extra towels. Bath salts and bath bombs look great in clear glass jars. Invest in a small orchid from your local Farmers Market.
Consider replacing cabinet hardware with something more modern. Hardware should match faucets, towel racks etc. – all should be the same finish.
Caulk the tub and anything else that needs caulking. When necessary have the grout professionally cleaned. Often staging your bathroom is as simple as just freshening it. And even, if you aren't selling, perhaps a bathroom overhaul is in your future.
Related Post: Five Ways Harb and Co. Will Help you Prepare Your Home for Sale 
Staging a Home for Sale Paid off