At the onset of COVID, most of us began to declutter out of boredom. I organized a closet where I kept extra household supplies, such as soap, toothpaste, aspirin, etc. The problem was that I did not create a home organization system. And within months, it was a cluttered mess once again.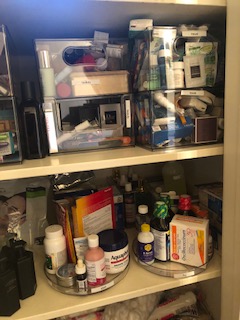 When channel surfing several months ago, I stumbled upon the Netflix series Home Edit. I followed them on Instagram. One day, I decided to take action on my horrible mess. My messy closet was measured, and I purchased several of their sets. The container bins and spinners were labeled. I now have a home organization system. The items in this closet have a designated space or container. When ordering the stackable container bins, I prefer the ones with a deep opening so you can reach your hand in the bottom compartment. I will organize my bathroom as soon as I get through the overflow (I had more than 20 new toothbrushes).
The spinners are ideal for a walk-in pantry. It makes it so easy to visualize what you are running low on. As I get free shipping, I purchase their items at Target. I don't know if there is a price difference, but the Home Edit bins are also sold at the Container Store.
Related Post: Raised Container Gardening Beds
Home Organizing Mistakes