Recently, I was contacted by a trustee who was selling an inherited home to his nephew. As a real estate agent with trust sale experience, the trustee wanted to know if I would handle the paperwork and escrow process for a reduced commission.
How to handle paperwork when selling by owner?  There are really just two viable options: One is  hire an attorney or Two hire an  experienced Realtor.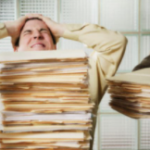 I was happy to handle the paperwork for a fee. I didn't need to help prepare the home for sale and I didn't have out of pocket costs such as real estate photography and a floorplan.
The nephew was living in the home and he decided to waive his inspection contingency. Although I supplied the appraiser with comps (comparable sales), the buyer  let the appraiser in. I only had to go to the home once. That was just to complete my AVID (agent visual inspection).  When California Realtors represent home buyers or sellers on residential real estate, we must complete a visual inspection. We are required to walk through the home and grounds and note our comments, primarily defects. We are not inspectors, but we should note, damaged flooring, counter tops, ceiling stains, etc.
I wish every real estate transaction were this simple!