When preparing your home for sale, the first thing to address is curb appeal. And that is often the simplest. It's much more time consuming to declutter and rearrange the interior. Your home should be decluttered, yet not sterile. Don't overlook your bookshelves. You should rearrange and edit your bookshelf. How to stage your bookshelf to sell?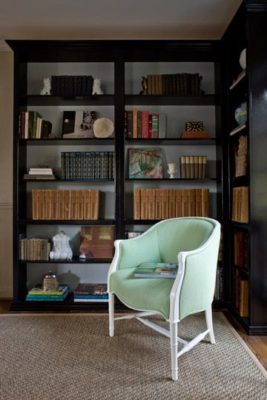 Divide the bookshelf with nearly equal parts of books, accessories, and open space. Remove paperback books and personal photos. Eliminate any books that may be offensive to differing political views. Remove any worn dust jackets. Arrange books by color palette and or size. Arrange most of the books vertically and the remainder horizontally.
Although it looks appealing, to cover the books in plain paper, it is unrealistic. What's the point of a library if you don't know the name of the book? But if you like this look, you can simply flip book jackets so that the plain side is facing out.
For photography purposes, accessories should be at least about the size of a coffee cup. Group accessories in threes, or fives. Unless the books are covered in neutral jackets don't accessorize with too many different colors and patterns.
If you need to hide items, add some baskets to the bottom shelf. Now take a step back and admire your hard work!
Related Post: Staging your home