La Canada Flintridge, January 2016 Real Estate Sales
The home ownership rate was on the rise for the second consecutive quarter as an improving job market and a slight easing in access to credit helped put an end to nearly two years of declines. The share of Americans who own their homes was 63.8 percent in the fourth quarter, which is up from 63.7 percent in the previous three months, the Census Bureau reports. Still, the home ownership rate remains near a 48-year low, which it first reached last year. It also remains far-below the peak it reached at the end of 2004 when the rate was 69.1 percent. Read the rest here: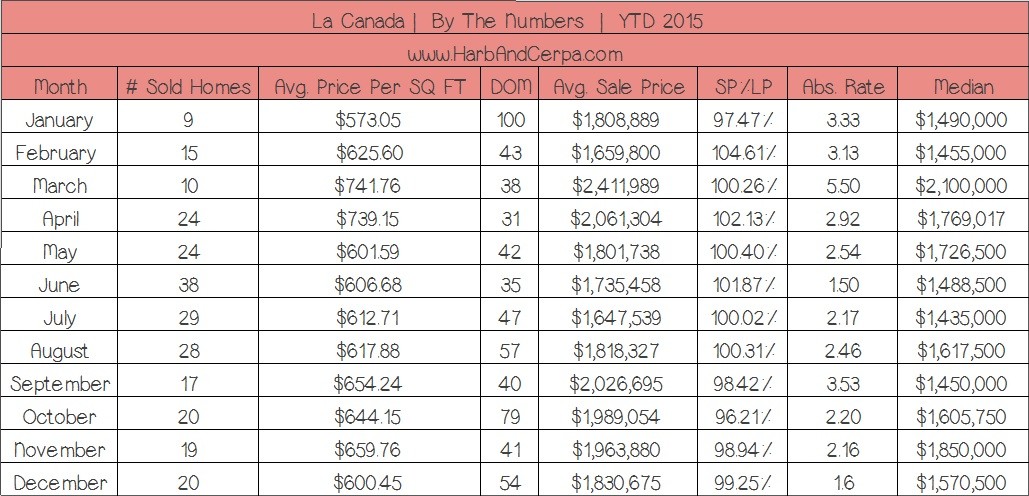 The average price per square foot of La Canada, January real estate sales is lower than December of last year, but higher than January of last year. Keep in mind most of the homes which sold in January entered escrow in November or December of last year. Economists are optimistic that the housing market will continue to improve this year. An expanding economy, strong jobs growth, rising consumer confidence and pent-up demand are stoking buyers' interest in purchasing homes, all factors in a strong home seller's market.  Here are details on the improvement in December from the California Association of Realtors.

If you are thinking of selling, now may be the time. Demand for your house will be strong at a time when there is very little competition. This should result in a quick sale (days on market/dom) and a great price. Want to know more? Pick up the phone and give us a call!