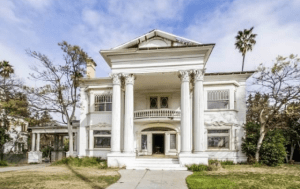 This Los Angeles haunted mansion is for sale!
There are so many different styles of homes.  Personally, I love architectural homes and homes with a history (aka character or vintage homes). No, it's not Disney's Haunted Mansion but the "Haunted Mansion" of the interactive horror play, Delusion: The Blood Rite.
It was constructed in the early 1900's  for Dr. Wesley W. Beckett who was Chairman of the Trustees of the Los Angeles County Medical Association. Unfortunately, once the Santa Monica Freeway was built in the 50's it forever impacted this Los Angeles neighborhood.
Located at 2218 South Harvard Blvd, this Colonial Revival home has been on the market since March.  Perhaps after five months on the market, there is a little negotiating room in the $1,100,000 asking price.
If you are interested in purchasing your very own Los Angeles Haunted Mansion, or perhaps just an architectural or vintage home, please give me a call.