Pricing your Los Angeles home to sell is as much art as science.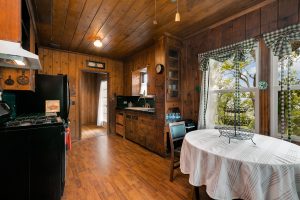 In May of this year Harb & Co. listed 5821 Buena Vista Terrace for $650,000. More than twenty offers were written and this Highland Park home sold for $837,000 nearly 30% over asking price. We had three open houses and a great marketing plan. We closed escrow on June 21st. Our stats: 2 +2, 1048 square feet on a 7098 square foot lot with a one car garage. This home was a sweet rustic cottage with few updates.
The neighboring home at 6045 Buena Vista Terrace listed in July for $879,000. Their stats: 2 + 2, 1040 square feet on a 7100 square foot lot with a two car garage. This home had an updated kitchen and baths, central air and heat. (Our listing had a wall furnace and wall a/c).
I understand that when pricing this Highland Park home, they assumed it would sell for more than my listing. But the first problem was pricing over the $850,000 price point. As most buyers search for homes on the internet, "round numbers" will show up in their online searches. Most buyers have a specific price range. For example: buyers are looking for a 3 bedroom home priced up to $850,000. When their search criteria cuts off at $850,000 and their dream home comes on the market priced for $879,000 they may not be aware of this listing.
After 17 days on the market, the neighbor's price was reduced to $859,000 – still missing the $850,000 price point.  13 days later the price dropped to $829,000, less than my $837,000 sale. But by now this home had been on the market for a month, while most homes in the neighborhood were selling in two weeks or less.  After 50 days on the market – nearly two months, the price was reduced to $798,000 and sold for $762,500 – more than $100,000 less than the original asking price.
In today's heated seller's market, it's difficult for a Realtor® to predict at which price your Los Angeles home will sell. There are so many unknowns that come into play.  A popular real estate pricing strategy is to slightly underprice a home in order to obtain multiple offers and a bidding war. Pricing your Los Angeles home just below market value typically results in the home selling at a higher price than if originally priced at fair market value.  In today's market, buyers are more confident about their home purchase when someone else desires the same home.  Pricing your property on the lower end of the value range stimulates interest among buyers and creates a herd mentality. Herd mentality, describes how people are influenced by their peers to adopt certain behaviors, follow trends, and/or purchase items.