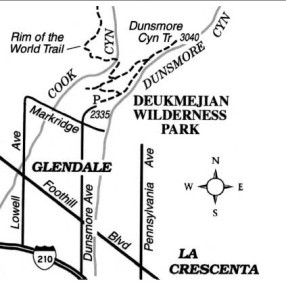 Year round activities include camp fires and third Saturday Wilderness Workdays.
The Trails:
Dunsmore Canyon Trail, 0.9 miles, 705 ft. elevation change, the trail has gentle grades that are ideal for the first time trail user.
Rim of the Valley Trail, 1.6 miles, 1,195 ft. elevation change, for the experienced hiker and mountain bicyclist. The trail passes through the picturesque Cooks Canyon Stream bed for several hundred feet with its year-round running water and lush native plants. This trail features the most spectacular views of the San Fernando Valley.
Le Mesnager Loop Trail, 1.4 miles, 420 ft. elevation change, Hikers, mountain bicyclists, and equestrians will find this trail more challenging.
Le Mesnager Lookout Trail, 50 yards, 15 ft. elevation change, Spectacular view of Glendale, the Los Angeles Basin and San Fernando and San Gabriel Valleys. On a clear day you can see Catalina Island.
Cooks Canyon Lookout Trail, 265 yards, 55 ft. elevation change
The lookout sits on a knoll allowing you to view the flora and fauna of the mountains. You will enjoy the serenity of this peaceful area tucked away from the hustle and bustle of the city.
I have a great listing around the corner form Deukmejian Park: 5105 Dunsmore, and its open Saturday and Sunday 2-4 – stop by and take a look.