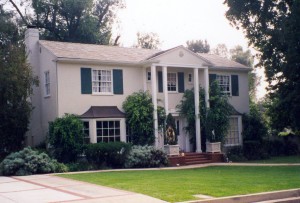 When I met George, I owned a small two-bedroom home in Glendale's Northwest Brand Park neighborhood. I loved my home with the octagonal entry with peg and grooved floor; the tree-lined street – all of it. George and I married and decided that we could afford and wanted a larger home to raise our family. Buying your dream home is often a matter of luck.
We looked in La Canada to be nearer his family, but that was in 1989, and in Los Angeles, real estate values had peaked. We couldn't find anything we both liked. George owned a tiny home on Ocean View in La Canada, on a large lot. He wanted to add on. But I didn't want to live on a busy street, and the home wasn't conducive for a large addition. The home didn't have a formal entry, and the living and dining rooms were small – an addition would make it a small house with a big rear end.
One day while previewing homes for clients, I looked at a four-bedroom newer home in Glendale's Fair Oaks neighborhood. Vaulted ceiling, his and hers walk-in closets…. the exact opposite of my charming two-bedroom home. We bought it, and it worked well for us. Soon after our purchase, real estate values declined, and we discussed moving to La Canada.
While showing homes to clients, I found their dream home (it was mine as well). La Canada has numerous ranch homes – affordable homes with character are few and far between. The Georgian Colonial was a diamond in the rough and had "good bones." My clients opened escrow several weeks before closing; the husband learned he was to be transferred to Chicago.   This was during the early 90s, and real estate was depressed, unlike today's real estate market, where most homes sell quickly and over the asking price.
We amended the escrow instructions, deleted my clients as buyers, and substituted the Harbs. And that's how the Harbs bought their dream home in La Canada. Maybe it was meant to be. What happened to my clients? They moved to Chicago and were then transferred to Northern California.   Oddly George and I ran into them in Maui several years ago, and they still ask about "their "home.
Related Post: When do I get the keys