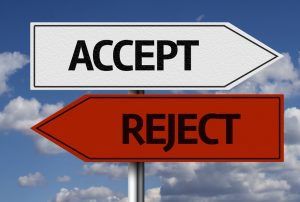 Los Angeles home buyers in the market to purchase their dream home are aware that although the LA real estate market has slowed it continues to be a home seller's market.  Well priced homes often sell over asking price in multiple offer scenarios. Unfortunate home buyers, who continue to lose out, know there are some very common and obvious reasons your offer was rejected:
1)      The price you offered was too low. Generally homes that are selling within the first ten days are selling for asking price or higher.  If you wrote a low offer on a brand new listing and didn't receive a counter you shouldn't be surprised. In addition, cash buyers are still competing with you and they are writing strong offers.
2)      The seller had specific terms that you didn't accept.  In some instances the seller's terms are more important than the selling price.  Often when a homeowner has been in a home for years, they are unwilling to vacate the same day escrow closes.  Sometimes they want a few days, and in other instances they want a month or maybe more. Not agreeing to seller terms such as possession, long or short escrow periods can be a deal breaker.
3)      Your offer was contingent upon the sale of another home that wasn't yet listed (on the market).  A buyer with a home to sell, which is in escrow with contingencies removed, often reflects a very motivated buyer. However, when the home is not yet listed or in escrow, the offer appears weak in comparison to other buyers who are ready, willing, and able to close.
4)      Your offer was incomplete. You and your Realtor did not provide a prequalification letter and evidence of down payment.
The seller's agent (listing agent) wants a smooth escrow for her clients, one without a lot of drama.  Real estate agents are aware of other reasons your offer wasn't accepted, but these may surprise home buyers:
5)      You behaved poorly at an open house; perhaps you were rude or somehow offended the listing agent.  There is open house etiquette buyers should observe.  At a minimum, be polite and don't criticize the home or agent holding it open (my mother taught me when I don't have anything nice to say to keep my mouth shut – that's always good advice).   If you are fortunate enough to have an opportunity to make a positive impression on the listing agent, smile and introduce yourself – good manners will always improve your chances.
6)      The agent representing you is known to be difficult to be in escrow with.  Perhaps they don't return calls, or are just argumentative.  But if they are someone with a "reputation", your offer may be passed over.
7)      Your Realtor is inexperienced and doesn't know how to properly prepare your offer.  Your Aunt Tess may be the nicest aunt in the world, but if she isn't a full time real estate agent it will hurt your chances of getting your offer accepted.  The seller's agent will prefer to be in escrow with a real estate pro. One who knows the ins and outs of escrow, one who will close.
To avoid your offer being rejected, contact the Harb and Co. Team to learn how to craft a successful offer.